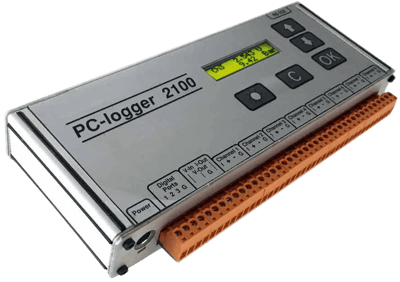 Images are representations only.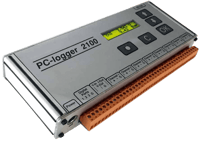 The SL2100 is a high performance data logger with 16 bit resolution.

The SL2100 has eight channels that can be configured via the software to accept mA, mV, low level DC voltage signals as well as thermocouple types B, E, J, K, N, R, S, T.

Whilst the SL2100 is generally used as a mains powered device, it does have internal batteries that will last up to eight hours in the event of a power failure.

There is enough internal memory to log 112,000 readings at sample rates from once per second to once per day in one second increments.

The SL2100 can be configured to log 'off-line' to its own internal memory, or, if connected to a computer, 'on-line'. Where the data are stored on the hard disk of the computer.

The SL2100 also has a relay output that can be used as an alarm output.

The SL2100 is fully compatible with the EasyView software. EasyView is a comprehensive software package that provides many functions in an easy to use format.
Specifications
Accuracy
± 0.01 % of Full Scale - Voltage Signals & Thermocouple Input
± 0.04 % of Full Scale - Voltage Signals, mA Signals & Thermocouple Input
Ambient Temperature Range
-20° to 50° C (-4° to 122° F)
Applications
Food Processing
Furnace Monitoring
Industrial Monitoring
Vechicle Testing
Approvals & Certifications
FDA 21 CFR Part 11 EN 12830
Humidity
0 to 95 % Relative Humidity, Non-Condensing
Resolution
0.4 mV to 10 V Range
1 µA - 20 mA Range
16-bits - High Performance
2 µV - 50 mV Range
4 µV - 100 mV Range
40 µV - 1 V Range
Sensor, Probe Type
B Thermocouple
E Thermocouple
J Thermocouple
K Thermocouple
N Thermocouple
R Thermocouple
S Thermocouple
T Thermocouple