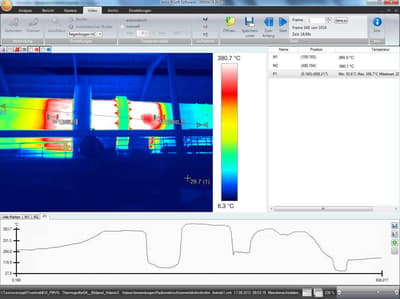 Images are representations only.
Process Analysis Package
Part Number:
0554 8902
Brand:
Testo
Process Analysis Package: Image sequence capturing in instrument and fully radiometric video measurement

Process Analysis with Testo 890 Thermal Imager

The testo 890 high-end thermal imager also offers demanding users, such as those in research & development or engineering firms, a very high level of precision and thermal images in megapixel quality.

Due to its excellent image quality, the testo 890 is particularly well suited for capturing image sequences directly in the imager.

The thermal imager features a synchronized automatic shutter, which – even during long recordings – ensures optimum image quality without interruption of recording.
Features
Live online measurement in real time at a frequency of up to 25 Hz
Recording and storage at freely selectable intervals (3 secs to 1 h) directly in the imager, wirelessly and without PC
Freely selectable recording start: manual, after countdown or limit value violation
Selectable storage formats: Video (vmt), thermal image (bmt), or thermal and real image (bmt+)
Fully radiometric storage of all data
Export of measurement data in different formats, e.g. .xls or .mpeg.
Synchronized automatic shutter
Recording of individual images (snapshots) from online measurement or videos
Setting of up to 15 measurement points which can be presented as a temperature-time diagram
Setting of up to five profile lines, in order to examine the temperature profile of measurement objects
Automatic hot/cold spot recognition
Can be used as an extension for testo 885 and testo 890
Recording start can be defined by limit values
IRSoft software available free of charge
Specifications
Delivery Scope
1 x Process Analysis Package
Infrared Image Output
Minimum Focus Distance: 0.2 m (25° lens)