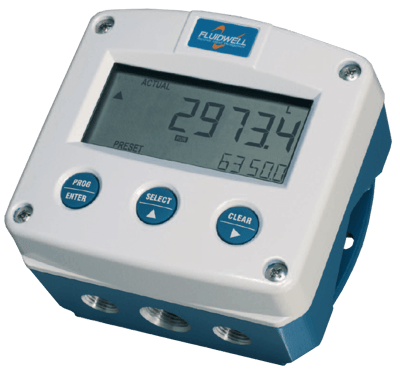 Images are representations only.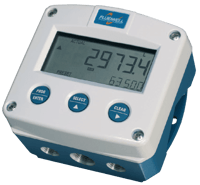 The F030 is a straight forward but easy-to-use batch controller.

The operator can easily enter a batch quantity or execute repeating batches.

During the batch, the preset value is displayed as well as the batched (or remaining) quantity and the units of measurement.

The automatic self-learning overrun correction will ensure an accurate batch every time.

On-screen engineering units are easily configured from a comprehensive selection.
Features
Large display shows preset value and running batch value simultaneously
Count-up and count-down function available
Selectable on-screen engineering units for total: ml, L, m³, GAL, USGAL, kg, lb, bbl or no unit
Actual batched quantity: seven 17 mm (0.67") digits
Preset value: seven 17 mm (0.67") digits during programming and 8 mm (0.31") digits during process 
Self-learning overrun correction
One control output to drive a valve or pump
Easy operation to enter a batch value and to control the process
LED backlight with adjustable intensity
Total - resettable: seven 17 mm (0.67") digits
Accumulated total - not resettable: eleven 8 mm (0.31") digits
Intrinsically safe according ATEX, IECEx, FM and CSA C-US
GRP, Aluminum or high grade stainless steel enclosure
Auto backup of settings and running totals in EEPROM memory
Easy configuration with clear alphanumerical display
Ambient temperature: -40° to +80° C (-40° to 176° F)
Advantages

Robust aluminum or stainless steel 316L field enclosure (IP65, IP67 / NEMA Type 4X). It is so rugged, a truck can even stand on it!
Intrinsically Safe available - ATEX, IECEx, FM and CSA approval for gas and dust applications
Familiar easy operation with the Fluidwell "Know one, know them all" configuration structure, saving time, cost and aggravation
Very diverse mounting possibilities: walls, pipes, panels or directly onto outdoor sensors
Specifications
Accuracy
Error < 0.01 mA / ± 0.05% FS.
Approvals & Certifications
IP/NEMA
RoHS
ATEX
CE
CSA
EMC
FM
IEC
IECEx
Enclosure Material
Field: 316 Stainless Steel
Polycarbonate Window
Sealing: Silicone
Field: Aluminum
Environmental Protection
IP65
IP67
NEMA 4X / IP65, 67
Operating Temperature
-40° to 80° C (-40° to 176° F)
Terminal Connection
Removable Plug-In Terminal Strip
Voltage Drop
1 VDC at 20 mA
Max. 2.6 VDC @ 20 mA (Loop Powered)
For One Stage Batch Qpplications at Low or Medium Flow Rates with Single or Repeating Batches
Field Mount Indicators in Safe and Hazardous Area Applications. Especially in Harsh Weather Conditions Like Rain, Snow, Sandy Deserts, Salty Atmospheres and Temperatures Between -40° to +80° C (-40° to 176° F)