Images are representations only.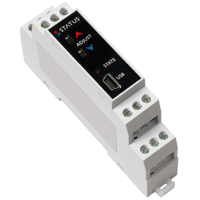 The SEM1600/B is a "smart" powered bridge amplifier for use with strain gauges or load cell signals.

The product has a built in capability to scale the input signal to a process value while the output stage offers either voltage, bipolar voltage or active / passive current re-transmission signals.

The product comes with an AC/DC power supply that will operate in the range (10-48) Vdc and (10-32) Vac making the device ideal for battery operation.

An additional volt free contact input is available for tare setting using a remote switch.

The high precision input stage of the device allows for a bridge excitation voltage of 5 Vdc to be used as opposed to the traditional 10 Vdc. This reduces the power requirement for the bridge supply and up to four bridges (cells) may be connected to the input.

The device is provided with two front panel push buttons that can be configured to perform one of two functions or be disabled.

Set as function 1, the buttons allow the user to push button configure the output range at high and low scale against a live input signal, set as function 2, the buttons allow the operator to trim the output at high and low scale.

The device uses ratio metric measurement to obtain high stability.
Features
Accepts Up To 4 Load Cells In Parallel
Output Current or Voltage Signal
Calibration Function
Remote Tare Function
Power Supply (10 to 32) V AC or (10 to 48) V DC Supply
View Live Data On An Android Phone Or Tablet
Specifications
Accuracy
Output Current: (mA Out/2,000) or 5 µA whichever is greater
Output Voltage: ± 5 mV
Ambient Temperature Range
10° to 30° C (50° to 86° F)
Approvals & Certifications
Communication
Baud Rate: 19,200 bit/sec
Electrical Connectors
4-Wire Ratiometric
DIN 43880
Filter
1 to 20 seconds to Reach 70 % of Final Value
Humidity
10 to 90 % Relative Humidity
Indication
LED Green when Output (-0.1 to 100.1) %
LED Red - Input/Output Error
Input
Bridge Input: -38 to 38 mV at 5 V Excitation
Bridge Input: -7.6 to 7.6 mV/V
Isolation
Galvanic Isolation - Supply to Input to Output: 500 Vdc
Load Impedance
Bridge Impedance: 85 to 10,000 ohms (Operates with Four 350 ohms Cell in Parallel)
Materials of Construction
Operating Temperature
-30° to 70° C (-22° to 158° F)
Output
Output Current - Current Source/Sink: 0-21.5 mA
Output Current Sink: Supply 10-30 Vdc
Output Voltage - Current Drive: ± 2 mA
Output Voltage - Range: 0-10.1 V
Output Voltage - Range: -10.1 to 10.1 V
Power Supply Effect
Output Current - Voltage Effect: 0.2 μA/V
Resistance
Output Current - Current Source: Max.
Output Voltage - Current Drive: Min. Load 5,000 ohms at 10 V
Response Time
< 200 milliseconds at 10 Samples Per second
< 50 milliseconds at 80 Samples Per second
Storage Temperature
-30° to 70° C (-22° to 158° F)
Supply Voltage
10-32 Vac Protected by Internal 500 mA Resettable Fuse
10-48 Vdc
Thermal Drift
Bridge Input: < ± 0.05 %
Output Current: 1 µA/°C
Update Time
10 Samples Per second
80 Samples Per second