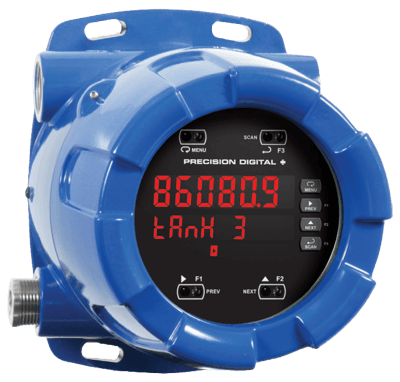 Images are representations only.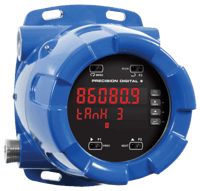 The ProtEX-MAX™ PD8-6080 Super Snooper Modbus® scanner offers all the functionality of the ProVu PD6080 as a fully FM, CSA, ATEX, and IECEx approved explosion-proof product.

It is a multi-purpose display and controller capable of scanning up to 16 Modbus process variables and includes dual analog process inputs.

The scanner can be programmed as a Modbus RTU master, slave, or snooper.

It is the ideal display for Modbus multivariable transmitters or for existing Modbus networks with transmitters in need of a conveniently located display in a hazardous area.

The PD8-6080 includes a 24 VDC power supply to drive the transmitter and can be equipped with four internal relays and two 4-20 mA outputs.

It can be programmed and operated without opening the housing by using the built-in SafeTouch® through-glass buttons.
Features
SunBright Display Standard
Modbus RTU Master, Slave, or Snooper Mode with RS-485 Serial Communications
Master Mode can Scan Up to 16 Modbus PVs from Modbus Transmitters
Snooper Mode can Scan Up to 16 Modbus PVs Polled by a Different Modbus Master
Up to Four Math Channels for Addition, Difference, Average, Ratio and More
SafeTouch® Through-glass Button Programming
Isolated 24 VDC at 25 mA Transmitter Power Supply
0-20 mA, 4-20 mA, 0-5 V, 1-5 V, and ±10 V Inputs
Onboard USB and ScanView Programming Software
12 models matching criteria
Specifications
Approvals & Certifications
ATEX, II 2 GD Ex d IIC T* Gb Ex Tb IIIC T90° C Db
CSA Class I, Div. 1, Groups B, C, D, Class II, Div. 1, Groups E, F, G Class III, Div. 1, Class I, Zone 1 Ex d IIC Zone 21 Ex Tb IIIC T90° C
FM Class I, Div. 1, Groups B, C, D Class II, Div. 1, Groups E, F, G Class III, Div. 1, T5/T6 Class I, Zone 1, AEx d, IIC Gb T5/T6 Zone 21, AEx Tb IIIC T90° C
IEC Ex d IIC T* Gb Ex Tb IIIC T90° C Db
Environmental Protection
IP66
IP68
NEMA 4X
NEMA 7
NEMA 9
Operating Temperature
-40° to 65° C (-40° to 150° F)