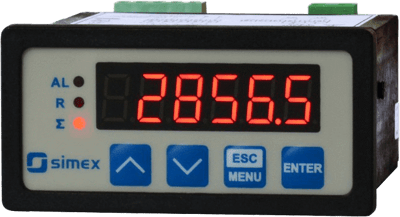 Images are representations only.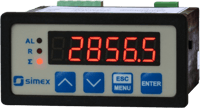 The STI-73 tachometers are designed to control rotational or linear speed of moving objects.

The device is also able to measure frequency.

As an additional advantage the device can convert the rotational / linear speed into inverse values, and to display the single revolution period or process duration.

The REL / OC control output can be programmed depending on the instantaneous value of rotational speed.

The counter can be configured with the local keyboard or free S-Config software via the RS-485 communication port.
Features
Pulse Rate / Period Meter
Rotational / Linear Speed Control
Revolution / Movement Period Control
1 REL / OC Outputs
Power Supply Output: 24V DC
RS-485 / Modbus RTU
"Over" Signalling when the Measuring Range is Exceeded
Free Configuration Software S-Config
Specifications
Input Levels
Low: 0...1V, High: 10...30 V
Output Type
Relay I=1A, U=30 Vdc/250 Vac (cosø=1)
Open Collector: I=30 mA, U=30 Vdc, P=100 mW
Measurement Unit
Revolutions per Second, per Minute, per Hour
Power Supply
16...35 Vac, 19...50 Vdc
85..260 Vac/dc
11,4...15 Vac/dc
Transmission Parameters
1200...115200 bit/s
8N1 / 8N2
Protection Class
IP 65: Front
IP 20: Case and Connection Clips
Optional Integrated Frame for Panel Cut-out Sealing
Documentation
Certifications and Approvals
Datasheet
Manual