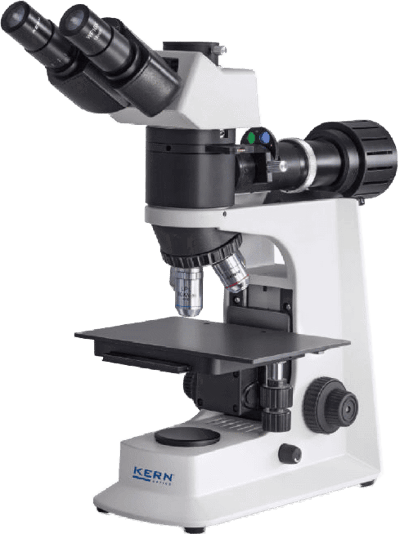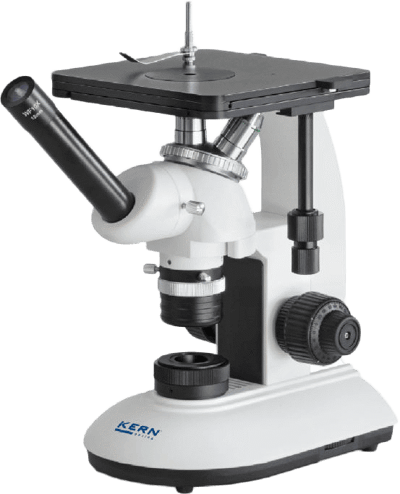 Images are representations only.
Metallurgical Microscope
Brand:
Kern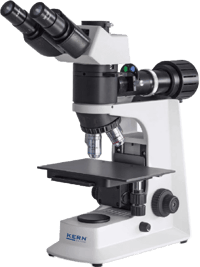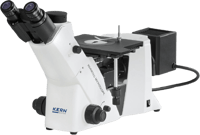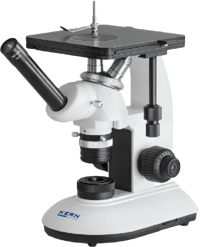 Metallurgical Microscope OKO-1 - The fully-equipped reflected and transmitted light microscope for numerous applications in metallurgy.

Metallurgical Inverse Microscope OLE-1 - The robust inverse metallurgical product for your training centres or workshop.

Metallurgical Inverse Microscope OLM-1 - The inverted metallurgical microscope for professional applications.

Metallurgical Microscope OKM-1 - The metallurgical reflected light microscope for material testing and surface testing, as well as quality assurance in industry.
Features
Metallurgical Microscope OKO-1


This device is a professional, versatile, metallurgical microscope, which is used in testing metals and analysing surfaces
The KERN OKO 178 is a combi-variant of LED incident illumination and LED transmitted illumination.
A height-adjustable 1.25 Abbe condenser which can be centred as well as a field diaphragm for complete professional Köhler illumination are part of the standard version
An open, mechanical angle table is integrated as standard
A simple polarising unit (analyser and polariser) is included with delivery
A large selection of accessories, such as, for example, a Butterfly Tube, eyepieces and further objectives are available for longer working distances
A protective dust cover, eye cups, as well as multi-lingual user instructions are included in the scope of the delivery
A C-mount adapter is required to connect a camera. You can select this adapter from the following model outfit list

Metallurgical Inverse Microscope OLE-1


The KERN OLE-1 is a stable inverse metallurgical microscope which is very easy to use
It is suitable for all common routine applications in training companies or workshops and produces excellent images
You can choose between mono or binocular versions with different eyepieces
As standard, these microscopes are fitted with planachromatic lenses
A revolving unit for up to 4 lenses and a large specimen stage are also included with delivery as standard
The following optional accessory items are available: LWD lenses for a large working distance as well as various stage inserts etc.
A powerful 3W LED light is available to provide the lighting
A central feature of this adaptable, robust microscope range is the stable mechanism which can be adjusted precisely. This is emphasized by the functional and ergonomic design

Metallurgical Inverse Microscope OLM-1


The KERN OLM-1 range is part of the range of inverted microscopes and stands out through its design which is ergonomic, robust and extremely stable.
This range, with its large working distance is, for example, particularly suitable for surface quality testing of raw materials and finished products in industry
Strong and infinitely adjustable 50 W halogen illumination unit ensures the optimum illumination of the materials to be tested
As standard, the OLM-1 range is fitted with a trinocular eyepiece tube
A simple polarising unit (analyser and polariser) is included with delivery
A large mechanical stage is included with delivery as standard.
The coarse and fine focusing knob on both sides guarantees optimal adjustment and focusing


Further options such as, for example, a large selection of objectives can be integrated as accessories
A dust cover as well as user instructions are included with the delivery

Metallurgical Microscope OKM-1


The KERN OKM-1 is an excellent metallurgical reflected light microscope, e.g. for surface quality testing of raw materials and finished products in industry
The strong, continuously dimmable 30W halogen incident illumination unit (Philips) ensures excellent, high-contrast images
The illumination unit with an integrated 5-slot filter wheel for blue, green, yellow, grey and blank means that you can quickly change the colour filter for different contrast views.
A large mechanical stage for incident illumination applications is configured as standard. The coarse and fine focusing knob on both sides guarantees optimal adjustment and focusing of your sample
A simple polarising unit (analyser and polariser) is included with delivery
A large selection of different eyepieces and objectives is also available
A protective dust cover, eye cups, as well as multi-lingual user instructions are included in the scope of the delivery
A C-mount adapter is required to connect a camera to the trinocular version
5 models matching criteria
Specifications
Optical System (DIN)
Infinity
4 or 5-fold Lens Revolving Unit
Finite
Boiling Pot
30° Inclined, 360° Rotatable
Dioptre Compensation Both Sides
Overall Dimensions W×D×H
550 mm x 200 mm x 460 mm
747 mm x 271 mm x 379 mm
440 mm x 200 mm x 460 mm
Net Weight
Approximately 16.978 kg
Approximately 12.968 kg
Approximately 7.488 kg
Tube
Binocular
Trinocular
Monocular
Illumination
30 W Halogen (Reflected Light)
50 W Halogen (Reflected Light)
3 W LED (Reflected Light)
5W LED (Transmitted Light)
5W LED (Reflected Light)
Scope of Application


Metallurgy, Material Testing, Quality Assurance

Applications/Samples


Opaque and Thick Samples, Workpieces (Surfaces, Fold Lines, Coatings)