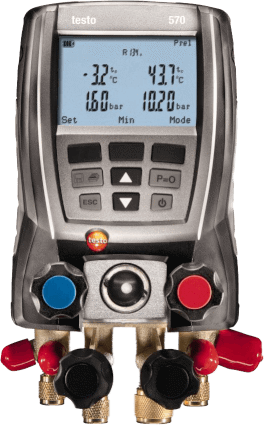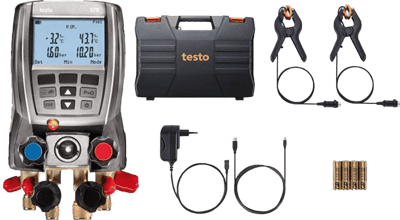 Images are representations only.
Testo 570-2 Kit - Digital Manifold Gauge
Brand:
Testo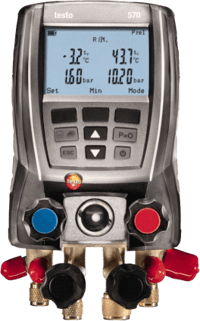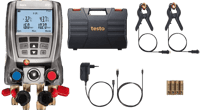 The Testo 570-2 is a digital 4-way manifold gauge that combines the functions of all the old tools and measuring instruments it can so easily replace.

The HVAC manifold can measure, analyze and log – among other things – pressure, temperature, electricity and vacuum measurements.

The Testo 570-2 digital manifold gauge won't just take the weight off your mind – it will also take the weight off your arms and shoulders.

That's because the Testo 570-2 can replace a whole array of different tools and measuring instruments that you would otherwise need to carry around with when you work on refrigeration systems and heating pumps.

The manifold gauge can measure, analyze and log pressure, temperature, electricity and vacuum measurements and save all measuring data.

From the moment the unit was first used to servicing and maintenance to the fault analysis of a system.

Modern-Day Technology that makes Certain Manual Steps and Calculations Redundant

999 hours of internal memory: clearly-structured, easy-to-follow logging of measurements
Real time data measurement and graphical editing: the "EasyKool" software presents the data in an easy-to-understand format – this allows faults to be detected far more quickly when breakdowns or failures occur
Call up and print out protocols: this allows you to reproduce measurements more easily and to call up protocols – as well as print out the data with the optionally available Testo fast printer
The 40 most common type refrigerant agents are already stored in the meter: updates for other refrigerant agents can be carried out free of charge using the "EasyKool" software
Two temperature compensated pressure sensors measure high and low pressure quickly and reliably and calculate the temperatures automatically
Three temperature connecting points for connectable temperature sensors: calculate superheat and subcooling simultaneously, measure parallel the surrounding temperature, for example in a cold storage room
Integrated vacuum measurements: reliable measurements during the evacuation of refrigerant systems and heat pumps
Automatic heat pump mode – no need to replace refrigerant hoses
Further features like the temperature compensated leak-tightness check function and the automatic surrounding pressure compensation
The scope of supply includes a two clamp temperature sensor which can be clamped directly onto the pipe in order to ensure that the surface temperature can be measured safely.

There is a wide selection of optionally available sensors for carrying out temperature, electricity and oil pressure measurements.

Rugged and Easy to Use: the Digital Manifold Gauge is a Truly professional piece of kit

The Testo 570-2 is a compact, sturdy, easy-to-use HVAC manifold with 4 connecting points, 4 hose brackets and an inspection glass.

The Testo 570-2 allows you carry out your work and service and maintenance tasks quickly, safely and efficiently.

The rugged housing protects the Testo 570-2 digital manifold gauge against impact while a suspension attachment ensures that the meter is safely positioned during measuring.

A large, backlit display ensures that you can read the measurements even in the dark or in poor lighting.
Features
40 refrigerants already stored in the meter
Simultaneous superheat and subcooling calculation
999 hours of measuring data for logging and further evaluation on your PC
Includes 2-clamp temperature sensor, PC software, USB cable, power adaptor and carry case
Specifications
Delivery Scope
Testo 570-2 digital 4-Way manifold gauge, 2-clamp temperature sensor, "EasyKool" PC software (free download), USB data cable, system case, power adaptor, calibration protocol, batteries
Temperature
Measuring Range: -50° C to +150° C
Accuracy: ± 0.5° C (± 1 Digit)
Resolution: 0.1° C
Probe Connection: 3 x plug-in (NTC)
Pressure Measurement
Measuring Range: 50 bar
Accuracy: ± 0.5 % Full Scale (± 1 Digit)
Resolution: 0.01 bar / 0.1 psi
Probe Connection: 3 x 7/16"-UNF + 1 x 5/8"-UNF
Overload Relative (low Pressure): 52 bar
Overload Relative (High Pressure): 52 bar
Low Pressure Relative: 50 bar
High Pressure Relative: 50 bar
Vacuum Measurement
Measuring Range: -1 to 0 bar
Accuracy: 1 % Full Scale
Resolution: 1 hPa / 1 mbar / 500 micron
Battery Life
approx. 40 h (without illumination)
Display Type
LCD (Liquid Crystal Display)
Refrigerants in Instrument
R12, R123, R1233zd, R1234yf, R134a, R22, R290, R401A, R401B, R402A, R402B, R404A, R407A, R407C, R408A, R409A, R410A, R414B, R416A, R420A, R421A, R421B, R422B, R422D, R424A, R427A, R434A, R437A, R438A, R448A, R449A, R450A, R452A, R455A, R502, R503, R507, R513A, R600a, R718 (H₂O), R744 (CO₂)
Refrigerants Update via App
EasyKool, R11, FX80, I12A, R114, R1150, R1234ze, R124, R125, R1270, R13, R13B1, R14, R142B, R152A, R161, R170, R227, R23, R236fa, R245fa, R32, R401C, R406A, R407B, R407D, R407F, R407H, R41, R411A, R412A, R413A, R417A, R417B, R417C, R422A, R422C, R426A, R442A, R444B, R452B, R453a, R454A, R454B, R454C, R458A, R500, R508A, R508B, R600, RIS89, SP22
Storage Temperature
-4° F to 140° F / -20° C to +60° C
Documentation of the Measurements Carried Out


You can save measurements directly in the instrument using the integrated data memory and then analyse, further process and document them later via the EasyKool software

Evacuation of Refrigeration Systems


You can carry out evacuations quickly and safely with the integrated vacuum measurement and no additional measuring instruments are needed

Quick and Easy Troubleshooting


For measurements on more complex systems with the testo 570, you can get a direct graphic display of the measuring values with a laptop and the EasyKool software. This online measurement means you very quickly find the causes of faults and can remedy them

Refrigerant Update by Customer


Testo now offers over 80 different refrigerants for digital manifolds. With the testo 570, you can quickly import the latest refrigerant yourself via the EasyKool software

Simultaneous Determination of Superheating and Subcooling


The Testo 570 automatically calculates superheating and subcooling of the system using up to 3 temperature probes which can be connected at the same time. Ambient temperature or flue gas temperature can also be checked with the third connectable probe

Tightness Testing of Refrigeration Systems


The Testo 570 can carry out a temperature-compensated leakage test of the system for rough tightness testing. To do this, the system pressure at the start of the measurement is compared with the one at the end and any difference there may be is displayed directly