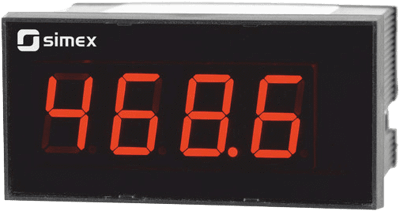 Images are representations only.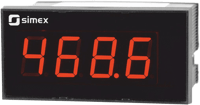 The SWE-94-S is a simple digital panel indicator intended for displaying any numerical values and characters defined by user - in SLAVE mode only sent from the master device over the RS-485 serial interface link.

The displayed value may be collected from other device - in MASTER mode.

The display brightness can be adjusted in 8 steps. Modbus RTU protocol is used for communication with the device.

Baud rate is user defined in 1200 ÷ 115200 baud range.

Over more communication interface RS-485 enables data transmission in any monitoring system equipped with Modbus RTU protocol.

The meter can be ordered in 3 power supply versions.

The meter can be configured with IR remote controller or free S-Config software via the RS-485 communication port.
Features
Low-cost Indicator with a Large, 20 mm High Display
No Analog Input
RS-485 / Modbus RTU
MASTER / SLAVE
Brightness Adjustable in 8 Steps
All Parameters are Freely Programmable with Remote Controller or Free Configuration Software S-Config
Specifications
Power Supply
110 Vac
230 Vac
10…30 Vdc
Transmission Parameters
1200...115200 bit/s
8N1 / 8N2
Protection Class
IP 40: Front
IP 20: Case and Connection Clips
Optional Integrated Frame for Panel Cut-out Sealing
Documentation
Certifications and Approvals
Datasheet
Manual