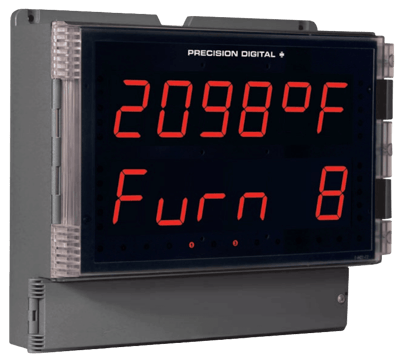 Images are representations only.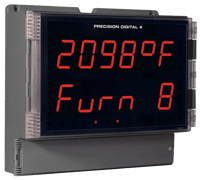 Go with the Helios PD2-7000 when you want to display temperature on a large display meter you can see from a distance.

The PD2-7000 can accept a variety of thermocouples and RTDs and displays temperature on a six digit display.

The PD2-7000's NEMA 4X, IP65 rated field mountable enclosure, super bright LEDs, and wide operating temperature range make it perfect for outdoor applications.
Features
Large 1.80" Digits
Dual-Line 6-Digit Display
Readable from up to 100 Feet (30 Meters) Away
Superluminous Sunlight Readable Display
NEMA 4X, IP65 Rated Field Mountable Enclosure
Operating Temperature Range of -40° to 65° C (-40° to 150° F)
J, K, T, E, R, S, B, N, C Thermocouples
100 or 1000 Ω Platinum, 10 Ω Copper, 120 Ω Nickel RTDs
1° or 0.1° Resolution
Averages up to 10 RTD Sensors
Automatic Cold Junction Compensation
Universal 85-265 VAC, or 12-24 VDC Input Power Models
Programmable Display & Function Keys
2 or 4 Relays + Isolated 4-20 mA Output Options
Onboard USB & RS-485 Serial Communication Options
Modbus® RTU Communication Protocol Standard
Program the Meter from a PC with Onboard USB and MeterView® Pro
4 models matching criteria
Specifications
Display
Two lines with 1.8" (46 mm) High Digits, Red LEDs, 6 Digits per line (-99999 to 999999), with Lead Zero Blanking
Display Intensity
Eight user selectable intensity levels
Programming Methods
Four Programming Buttons, digital inputs, PC and MeterView Pro Software, or Modbus registers
Noise Filter
Programmable from 2 to 199 (0 will disable filter)
Filter Bypass
Programmable from 0.1 to 99.9 % of Calibrated Span
Passwords Restrict Modification
Pass 1: Allows use of function keys and digital inputs
Pass 2: Allows use of function keys, digital inputs and editing set/reset Points
Pass 3: Restricts all Programming, function keys, and digital inputs.
Power
85-265 Vac 50/60 Hz, 90-265 Vdc, 20 W max
12-24 Vdc ± 10 %, 15 W Max
Fuse
Required External Fuse: UL Recognized, 5 A max., Slow Blow, up to 6 metres may share one 5 A fuse
Isolation
4 kV Input/Output-to-Power Line, 500 V Input-to-Output or Output-to-P+ Supply
Operating Temperature
-40° to 150° F (-40° to 65° C)
Storage Temperature
-40° to 185° F (-40° to 85° C)
Humidity
0 to 90% RH Non-Condensing
Connections
Removable and integrated screw terminal blocks accept 12 to 22 AWG wire
Enclosure Material
Polycarbonate & Glass Blended Plastic
Mounting
Wall Mounting
Pipe Mounting
Dimensions (H x W x D)
Overall: 10.63" x 12.59" x 4.77" (270 x 319.7 x 121.2 mm)
Certifications & Approvals
USB Connection
Compatibility: USB 2.0 Standard, Compliant
Connector Type: Micro-B receptacle
Cable: USB A Male to Micro-B Cable
Driver: Windows® 98/SE, ME, 2000, Server 2003/2008, XP 32/64-Bit, Vista 32/64-Bit, Windows 7 32/64-Bit, Windows 10 32/64-Bit
Power: USB Port
Input
Thermocouple: J, K, T, E, R, S, B, N, C
RTD: 100Ω Pt, 10Ω Cu, 120Ω Ni, 1000Ω Pt