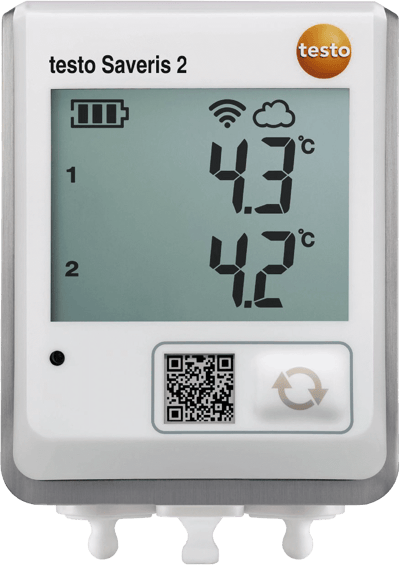 Images are representations only.
Testo Saveris 2-T2 - Wi-Fi Data Logger with 2 External NTC Temperature Probe Connectors
Part Number:
0572 2032
Brand:
Testo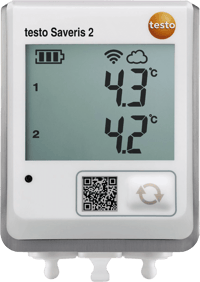 The testo Saveris 2-T2 Wi-Fi data logger reliably measures and records values over long periods.

When used with the testo Cloud service, measurements are available anytime, anywhere, via an internet connected device such as a tablet, PC, or smartphone.

Viewing your data is as simple as registering your data logger on your testo Cloud account.

The testo Saveris 2-T2 Wi-Fi data logger system is an easy, versatile, and secure solution for the measurement and monitoring of temperature and door contact values.

The system consists of at least one Wi-Fi data logger and a testo Cloud license (online data storage).

As a component of this data logger system, the testo Saveris 2-T2 stores all measured temperature values and door openings, and transmits them directly by Wi-Fi to the testo Cloud.

The measurement rate is adjustable from 1 minute to 24 hours.

You can use the alarm function to receive immediate alarms by e-mail or SMS text message (optional), when user set limit values are exceeded.

Installation, Readout, and Analysis of Wi-Fi Data Loggers

The testo Saveris 2-T2 Wi-Fi data logger is easily installed.

Select the appropriate testo Cloud license to fit your company's needs, connect through your WLAN network, then log in to the testo Cloud to configure the logger and begin collecting measurements.

Logger and system settings, alarm settings, and outputs are quickly set. Now relax, because Saveris 2 is on the job, and will alert you if a limit or problem is detected.

The logger itself displays current measurement values, alarm conditions, and remaining battery life.

The standard batteries (AA) have a life expectancy of 24 months, and can be replaced as needed.

The internal data storage of the Wi-Fi data logger has a capacity of 10,000 measurement values per channel/measurement type.

The rugged IP65 housing is suitable for any type of environment.

Note: This logger requires a connectable probe or door contact.
Features
Alerts when limit values are exceeded via e-mail or SMS (optional)
Automated door contact and temperature monitoring with connectable probes (optional)
Access to readings anywhere and with any device
Data transfer by wireless LAN
Automatic reading documentation
Free online data storage in the cloud
Specifications
Delivery Scope
Testo Saveris 2-T2 Wi-Fi Data Logger
Micro USB Cable
Wall Bracket with Lock
Batteries (4 AA)
Instruction Manual
Factory Calibration Document
Dimensions
4 x 3 x 1.2 in. / 95 x 75 x 30.5 mm
Operating Temperature
-22° F to 122° F / -30° C to +50° C
Measuring Rate
Dependent on Cloud Licence, Basic: 15 min … 24 h / Advanced: 1 min … 24 h
Communication Rate
Dependent on Cloud Licence, Basic: 15 min … 24 h / Advanced: 1 min … 24 h
WLAN Connectivity
Signal Transmission: Wireless, Frequency Band: 2.4 GHz, Supported Wireless LAN Standards: IEEE 802.11 b/g/n and IEEE 802.1X, Possible Encryption Methods: Without Encryption, WEP, WPA, WPA2, WPA2 Enterprise - The Data Loggers communicate via the Standard Protocol MQTT and are SNTP Time Synchronization-capable.
Connection External
External Temperature Probes
Power Supply
4 x AA AlMn batteries, mains unit optional, for temperatures below -10° C please use Energizer batteries 0515 0572
Memory
10,000 Measurement Values / Channel
Battery Life
12 months (Typical Value, depending on the Wireless LAN Infrastructure) at +25° C, 15-minute Measuring Cycle and Standard Communication Cycle at -30° C, 15-minute Measuring Cycle and Standard Communication Cycle with Energizer Batteries 0515 0572
Storage Temperature
-40° F to 158° F (Without Batteries) / -40° C to +70° C (Without Batteries)
Temperature - NTC
Measuring Range: -22° F to 122° F / -30° C to +50° C
Accuracy: ± 0.9° F / ± 0.5° C
Resolution: 0.1° F / 0.1° C