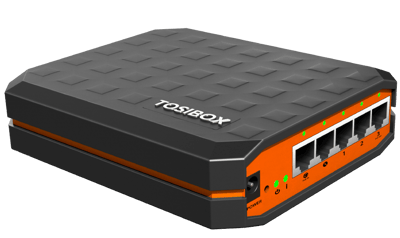 Images are representations only.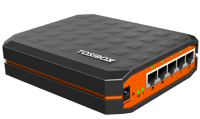 TOSIBOX® Lock is an intelligent remote access and networking device that serves as an endpoint for secure remote connections.

Devices connected to the Lock are securely accessed over the Internet and most LAN and WAN networks through an encrypted VPN connection.

NAT and firewall friendly, the Lock's patented Plug & Go connection method takes you out of the box and into use in less than 5 minutes, without the need for software installations, network configurations or special skills.
Features
Especially designed for industrial environments and its robust housing offers better installation possibilities e.g. on DIN rails
VPN throughput up to 15 Mbit/s
PoE functionality
Fully compatible with all existing TOSIBOX® products so the users can mix them freely with their existing system
Performing at the highest security levels in the industry – See security questions answered in our Security Center
Specifications
Ports
1 x USB 2.0, Type A
1 x RJ-45 WAN Connection, 10/100 Mbit/s, auto-negotiation (MDI / MDI-X)
3 x RJ-45 LAN Connection, 10/100 Mbit/s, auto-negotiation (MDI / MDI-X)
1 x RJ-45 Service Connection, 10/100 Mbit/s, auto-negotiation (MDI / MDI-X)
Connections
DC Input Power jack 5.5/2.1 mm, 8 - 27 Vdc ± 10 %, reverse polarity Protected
PoE Input 8 - 27 Vdc (WAN Port), PoE output (LAN3 Port, limited, 27 V / 580 mA max)
The product must be Powered by limited energy according to chapter 9.4 of IEC / UL 61010-1 3rd edition
DIN Rail Mounting bracket M3 threads on three sides
Maximum Power consumption is 7 W
WAN Connection Features
Independent of Operating systems
Works in all Internet Connections (Operator independent)
Supports HTTP proxy Servers with and without authentication
Firewall friendly
Works with dynamic, Static and private IP addresses
Built-in firewall, NAT
Up to 50 concurrent VPN Connections
VPN throughput up to 15 Mbit/s
Mobile Connection Features
Supported 3G/4G USB modems: TOSIBOX 3G modem, TOSIBOX 4G modem
TosiOnline™ Automatic network recovery that recovers from most mobile Operator and modem problems
Physical Properties
IP Protection Class: IP20
Cast Aluminum casing
Overvoltage Category I
Maximum Operating altitude: 3000 m / 10 000 ft.
140 mm x 36 mm x 125 mm / 5.51″ x 1.42″ x 4.92″ (L x W x H)
Weight 530 g / 1.17 lbs
Operating Temperature -20° C … +50° C / -4° F … +122° F
Storage Temperature -40° C … +70° C / -40° F … +158° F
Operating humidity: 20 - 80 % Relative Humidity, Non-Condensing
Accessories
USB extension cable
RJ45/RJ45 Ethernet cable
AC Adapter: Input 100-240 Vac, frequency 47 - 63 Hz, Output 12.0 V, 1.6 A, max 19.2 W. EU, UK, or US Power socket
DIN Rail Mounting bracket
Power cable anchor
DC Input plug
Lock 200 (TBL2EU) Power Source
Model: SAW30-240 0800G A
Input: 100-240 Vac
Frequency: 50/60 Hz
Output: 24 V / 0.8 A / Max. 19.2 W
Operating Temperature: -30° C … +50° C / -22° F … 112° F
Storage Temperature: -10° C … +70° C / 14° F… 158° F
Storage humidity: 10 % - 90 % Relative Humidity
Operating humidity: 5 % - 95 % Relative Humidity
Lock 200 (TBL2AU/UK/US) Power Source
Model: ATS024T-W240 V
Input: 100-240 Vac
Frequency: 50/60 Hz
Output: 24 V / 1 A / Max. 24 W
Operating Temperature: -20° C … +70° C / -4° F… 158° F
Operating humidity: 20 % - 80 % Relative Humidity
Storage Temperature: -20° C … +80° C / -4° F… 176° F
Storage humidity: 10 % - 90 % Relative Humidity
Product Codes
TBL2EU, TBL2UK, TBL2US, TBL2AU