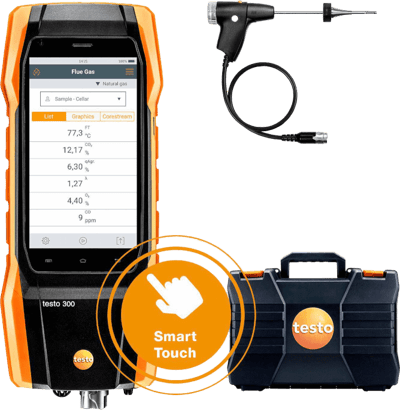 Images are representations only.
Testo 300 Longlife Kit 2 - Flue Gas Analyzer (O₂, CO H₂-Compensated up to 30,000 ppm, NO - Can be Retrofitted)
Brand:
Testo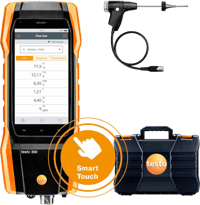 Carry out installation and maintenance work on heating systems several times a day using the flue gas analyzer with Longlife sensors.

The TÜV-tested Testo 300 Longlife flue gas analyzer is supplied with O2 and CO H2-compensated sensor up to 30,000 ppm (NO - can be retrofitted), TÜV-tested modular flue gas probe, case and practical accessories.
Features
Intuitive, smart, efficient: intuitive measurement menus, fast-response Smart-Touch operation, efficient, wireless parallel measurement of up to four Testo Smart Probes, practical second screen function, on-site documentation, e-mailing of reports
Including O2, CO H2-compensated sensor up to 30,000 ppm (NO sensor - can be retrofitted)
High-quality sensor technology with up to 6 years' service life
In the kit: Testo 300 NEXT LEVEL Longlife flue gas analyzer, including O2 and CO H2-compensated sensor up to 30,000 ppm (NO - can be retrofitted), Testo Bluetooth® Connector, mains unit, modular flue gas probe, spare dirt filters, EasyHeat software, case
Specifications
Delivery Scope
Testo 300 Longlife flue gas analyzer with O₂ and CO H₂-compensated sensor up to 30,000 ppm, NO - can be retrofitted (0633 3004 83)
USB mains unit, including cable (0554 1106)
Modular flue gas probe 180 mm, Ø 8 mm, TMax. 500° C, TÜV tested and certified, 2.2 m hose (0600 9760)
Spare dirt filters for modular flue gas probe, 10 off (0554 3385)
Free download EasyHeat PC software (0554 3332)
Instrument case (height: 130 mm) for instrument, probes and accessories (0516 3300)
Operating Humidity
15 to 90 %RH Non-Condensing
Dimensions
244 (including probe connection) x 98 x 59 mm
Display Type
5.0" touch display, HD 1280 x 720 pixels, IPS (160 k)
Power Supply
Rechargeable Battery, USB Mains Unit
Authorizations
TÜV-tested according to 1st German Federal Immission Control Ordinance (BImSchV) EN 50379, Parts 1-3
Warranty Conditions
https://www.testo.com/guarantee
Guarantee
Gas Sensors (O₂, CO) 48 months, NO, NO Low, CO Low sensor 24 months, Thermocouple 12 months, rechargeable battery: 12 months
Memory
1,000,000 Measuring Values
Differential Pressure 4 Pa Measurement - Piezoresistive
Measuring Range: -50 to +50 Pa
Accuracy: ± 0.3 Pa (< 10 Pa) | ± 3 % of mv (Remaining Range)
Resolution: 0.1 Pa
Ambient CO
Measuring Range: 0 to 2000 ppm
Accuracy: ± 10 ppm (0 to 100 ppm) | ± 10 % of mv (101 to 2000 ppm)
Resolution: 1 ppm
Flue Gas CO₂ Calculation (Calculated from O₂)
Measuring Range: 0 to CO₂ maximum (Display range)
Accuracy: ± 0.2 Vol. %
Resolution: 0.1 Vol. %
Flue Gas Loss (Calculated)
Measuring Range: 0 to 99.9 %
Resolution: 0.1 %
Flue Gas Degree of Effectivity, Eta (Calculated)
Measuring Range: 0 to 120 %
Resolution: 0.1 %
Differential Pressure Flue Gas Draught - Piezoresistive
Measuring Range: -9.99 to +40 hPa
Accuracy: ± 0.005 hPa (+0 to +0.1 hPa) | ± 0.02 hPa (+0.1 to +3.00 hPa) | ± 1.5 % of mv (3.01 to +40 hPa)
Resolution: 0.001 hPa (0 to 0.1 hPa) | 0.01 hPa (Remaining Range)
CO Determination (with H₂-Compensation), Automatic Dilution
Measuring Range: 0 to 30000 ppm
Accuracy: ± 100 ppm or ± 10 % of mv
Resolution: 1 ppm
Flue Gas CO Low (Without H₂-Compensation)
Measuring Range: 0 to 500 ppm
Accuracy: ± 2 ppm (40 to 500 ppm) | ± 5 % of mv Remaining Range
Resolution: 0.1 ppm
Flue Gas O₂
Measuring Range: 0 to 21 Vol. %
Accuracy: ± 0.2 Vol. %
Resolution: 0.1 Vol. %
Differential Pressure - Piezoresistive
Measuring Range: -100 to +200 hPa
Resolution: 0.01 hPa
Accuracy: ± 0.5 hPa (0 to +50.0 hPa) | ± 1 % of mv (+50.1 to +100.0 hPa) | ± 1.5 % of mv (+100.1 to +200 hPa)
Temperature - TC Type K (NiCr-Ni)
Measuring Range: -40.0° C to +1200.0° C
Accuracy: ± 0.50° C (0° C to 100.0° C) | ± 0.50 % of mv (Remaining Range)
Resolution: 0.1° C (-40° C to +999.9° C) | 1° C (Remaining Range)
Flue Gas NO
Measuring Range: 0 to 3000 ppm
Accuracy: ± 5 ppm (0 to 100 ppm) | ± 5 % of mv (101 to 2000 ppm) | ± 10 % of mv (2001 to 3000 ppm)
Resolution: 1 ppm
Flue Gas NO Low
Measuring Range: 0 to 300 ppm
Accuracy: ± 2 ppm (0 to +39.9 ppm) | ± 5 % of mv (40 to 300 ppm)
Resolution: 0.1 ppm
Testo EasyHeat v2.12 SP6 - PC Software
System Requirements: Windows® 7, Windows® 8, Windows® 10
Spare Particle Filter, 10 off
Weight: 12 g
Dimensions: height: 2.9 mm, ø: 29.7 mm
Product Colour: White
Modular Flue Gas Probe, 180 mm, Ø 8 mm, Tₘₐₓ 500° C, TÜV-tested
Diameter Probe Shaft: 8 mm
Cable Length: 2.2 m
Length Probe Shaft: 180 mm
Product Colour: Black
Temperature Max.: 500° C
Diameter: 6 mm
Weight: 524 g
Instrument Case (Height: 130 mm) - for Instrument, Probes and Accessories
Weight: 3880 g
Dimensions: 520 x 400 x 130 mm
Product / Housing Material: Plastic
Product Colour: Black
USB Mains Unit with Cable
Weight: 144 g
Dimensions: 85 x 55 x 90 mm
Product Colour: Black
Cable Length: 2 m
Power Supply: 230 Vac / 5 Vdc (2 A), micro USB, for the use in USA, CA, AU, Europe, UK, CN, Korea
Testo Bluetooth® Connector
Battery Life: None, operated via Testo 300
Connection: TUC 1 or TUC 2
Radio Range: 100 m
Compatible With: Testo 510i, Testo 115i, Testo 915i
Flue Gas Measurement on Heating Systems


Ideal for Measurements involving Heating Systems:


High-Quality Sensors, Smart-Touch Operation, Clearly Structured Measurement Menus, Creation of Documentation on Site, E-mailing of Reports, Large HD Display, Robust Housing

Further Areas of Application:


Gas Flow Pressure Measurement*, Gas Pipe Test*, Differential Temperature Measurement (Flow and Return Temperature on Heating Systems)*, Ambient CO Measurement*, Flue Draught Measurement on Heating Systems*, Integrated 4 Pa Measurement for Combustion Equipment
* Please Note: Additional Probes or Accessories are Required for these Measurements and have to be Ordered Separately