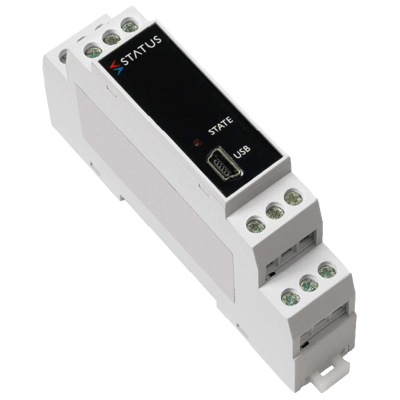 Images are representations only.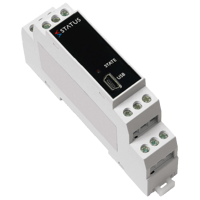 The SEM1600T accepts resistance or mV signals from RTD, Slidewire or Thermocouple sensors.

The flexible design allows the use of any resistive sensor within the range of (10 to 10,500) Ohms.

Including Pt100, 500, 1000, Ni or Cu sensors, slide wire sensors up to 100 KiloOhms and 13 different thermocouple types.

Other sensor characteristics or your own 22 point linearisation characteristic (for slidewire, linear resistance or mV) can be downloaded into the product enabling you to adapt it exactly to your application.
Features
Current, Voltage or Bipolar Voltage Output
Powered 10-32 Vac / 10-48 Vdc Supply
22 Segment User Linearisation
Sensor Offset and Output Alignment
Adjustable Input Filter
Specifications
Accuracy
(mA Output/2,000) or 5 µA whichever is greater, Drift 1 µA/°C
Cold Junction: ± 0.2° C (± 0.36° F), ± 0.05° C/°C
Output Voltage: ± 5 mV
Sensor Thermocouple: ± 0.1 % of Full Scale ± 0.5° C - Input Typicals: R, S/Input Typicals: K, J, E, N, L, U, B, C, D, W (Plus Sensor Error)
Sensor Thermocouple: ± 0.2 % of Full Scale ± 0.5° C - Input Typical: T (Plus Sensor Error)
Sensors RTD: 0.2° C + (°0.05 % of Reading) (Plus Sensor)
Thermocouple mV Input: ± 0.02 % of Full Scale
Ambient Temperature Range
10° to 30° C (50° to 86° F)
Approvals & Certifications
Communication
Baud Rate: 19,200 bit/sec
Current
Current Drive: ± 2 mA (Min. Load 5000 ohms at 10 V) - Output Voltage
Current Sink (Range): 0-21.5 mA - Output Current
Excitation Current: < 200 μA - Resistance RTD Input
Humidity
10 to 90 % Relative Humidity, Non-Condensing
Indication
Green LED (When Output (-0.1 to 100.1 %) Else Red
Red LED (Input/Output Error)
Isolation
Galvanic: 500 Vdc (Supply to Input to Output)
Load
5,000 ohms at 10 V (Min.)
Materials of Construction
Operating Temperature
-30° to 70° C (-22° to 158° F)
Output
0 to 10.1 V
-10.1 to 10.1 V
Resistance
10 to 500 ohms ± 0.055 ohms
2,500 to 10,500 ohms ± 10.0 ohms
500 to 2,500 ohms ± 0.5 ohms
Maximum
RTD Type
Cu100
Cu1000
Cu53
Ni100
Ni1000
Ni120
Ni507.5
Ni604
Pt100
Pt1000
Pt500
Sensor, Probe Material
Copper
Nickel
Platinum
Silicon
Sensor, Probe Type
B Thermocouple
C(W5) Thermocouple
D(W3) Thermocouple
E Thermocouple
G(W) Thermocouple
J Thermocouple
K Thermocouple
L Thermocouple
N Thermocouple
RTD
R Thermocouple
S Thermocouple
T Thermocouple
U Thermocouple
Storage Temperature
-30° to 70° C (-22° to 158° F)
Supply Voltage
10-32 Vac Protected by Internal 500 mA Resettable Fuse
10-48 Vdc
Temperature Range
Cold Junction: -40° to 85° C (-40° to 185° F)
Thermocouple: -200° to 2,300° C (-328° to 4,172° F)
Thermal Drift
(0 to 500 ohms) 0.013 ohms/ °C
(2,500 to 10,500 ohms) 0.27 ohms/°C
(500 to 2,500 ohms) 0.063 ohms/°C
0.05° C/°C of Span
1 μA/°C
Thermocouple Offset: 0.1° C/°C
Update Time
300 milliseconds
Warm-Up: 2 minutes