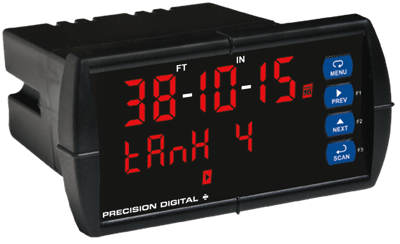 Images are representations only.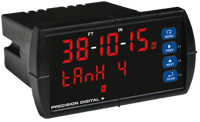 The ProVu® PD6081 Super Snooper feet & inches Modbus® scanner displays level information on a specially designed feet & inches display, instead of the usual decimal format.

It is the ideal display for Modbus level or multivariable transmitters and is capable of scanning up to 16 Modbus process variables.

Its unique feet & inches upper LED display can indicate up to 99 feet, 11 and 15/16 inches.

The 6-digit lower display can indicate units, tags, or other variables such as volume, temperature, or density.

The PD6081 also has dual analog inputs, for integrating traditional 4-20 mA or voltage inputs in the display scanning.

The PD6081 can be setup as a Modbus master, slave, or snooper.

Like all ProVu meters, the PD6081 includes UL / C-UL listing and CE marking, a NEMA 4X front, and AC or DC power options.

Various math functions may be applied to the analog or Modbus inputs, such as addition, difference, average, and ratio.
Features
Modbus® RS-485 RTU Serial Communications as Master, Slave, or Snooper
RS-485 Serial Communications Standard
Feet & Inches - with Eighths & Sixteenths Display
Scan up to 16 Modbus Process Variables
Dual Analog Inputs: 0-20 mA, 4-20 mA, 0-5 V, 1-5 V, and ±10 V
Addition, Difference, Average, Multiplication, Division, Min, Max, Weighted Average, Ratio, Concentration, & More
Large Dual-Line 6-Digit Display, 0.60" & 0.46"
Sunlight Readable Display Standard
NEMA 4X, IP65 Front
Universal 85-265 Vac, or 12/24 Vdc Input Power Models
Isolated 24 Vdc at 200 mA Transmitter Power Supply
Programmable Display & Function Keys
32-Point, Square Root, or Exponential Linearization
Multi-Pump Alternation Control
2 or 4 Relays + Isolated 4-20 mA Output Options
External 4-Relay & Digital I/O Expansion Modules
Configure, Monitor, and Datalog from a PC with Free ScanView Software
12 models matching criteria
Specifications
Approvals & Certifications
Function
Absolute Difference
Addition
Average
Concentration
Difference
Division
Draw
Multiplication
Ratio
Weighted Average
Isolation
4 kV Input/Output-to-Power-Line
500 V Input to Output or Output to P+ Supply
Operating Temperature
-40° to 65° C (-40° to 150° F)
Documentation
Instruction Manuals
Modbus Tables