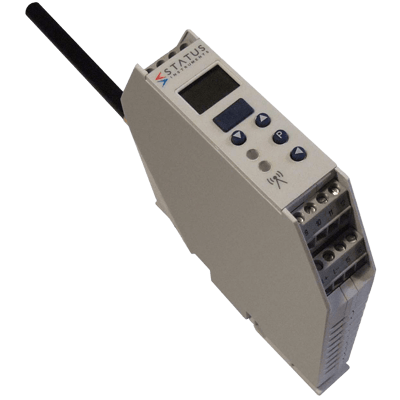 Images are representations only.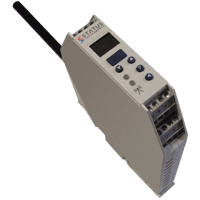 The WRX900 receiver is used together with the WTX700 in head temperature transmitter for wireless temperature measurement.

The product converts the measured temperature values received into isolated current or voltage signals (0 (4)-20) mA, (0-10 V) as well as making them available via a digital RS485 interface.

The WRX900 will accept wireless signals from up to 16 WTX700 in head transmitters.

Any one of the temperature values received can be linked to any one of the Analog or relay outputs and all are available via the RS485 digital interface.

The product operates using the ISM (Industrial Scientific and Medical) band of 868.4 MHz. This frequency is virtually insensitive to external interferences and allows transmission even in a harsh industrial environment.

The antenna screws into the top of the DIN rail module but for use in cabinets or to gain a better signal, we also offer an antenna extension lead together with an antenna mounting bracket.

Programming is possible by using the Wireless configuration kit.

Alternatively it is possible to programme the product manually using the push buttons and information on the LCD screen.
Features
Receives from up to 16 WTX700 Transmitters
300m Line Of Sight Range
ISM Band 868.4MHz For European Use
Programmable Current Or Voltage & 2 relay outputs
RS485 Modbus Communication
LCD Display
Low Transmitter Battery Alarm
Push Button or PC Programmable
4 models matching criteria
Specifications
Accuracy
± 0.1 % (Includes Adjustment, Linearisation, Load Influence & Voltage Supply Influence)
Ambient Temperature Range
-20° to 50° C (-4° to 122° F), without Condensation (Even with Close Mounting)
Approvals & Certifications
EMC DIN EN 61326-1
Flammability: UL 94 V-2
Communication
Baud Rate: 9,600 bit/sec - for PC Configuration Interface
Baud Rate: 9,600, 19,200, 38,400 - for RS-485 Interface
RS-485 Modbus Communication Protocol
USB
Display
LCD Display (Top Line: 4-Digit, 7-Segment, 4.5 mm High, Bottom Line: 5-Digit, 16-Segment, 4 mm High)
Electrical Connectors
Screw Terminal up to 2.5 mm²
Electrical Contacts
Normally Closed
Normally Open
Electrical Rating
1 A at 230 Vac Resistive
3 A at 230 Vac Resistive
Frequency
Transmission Frequency: 868.4 MHz, ISM Band (Europe)
Humidity
85 % Relative Humidity without Condensation as Per DIN EN 60721-3-3 3K3
Isolation
2.3 kVac, Relay to Relay
3.7 kVac, Relay to Analog Outputs & Interface
50 Vdc
Load
10 kiloohms at Voltage Output
500 ohms at Current Output
Materials of Construction
Mounting
Top Hat Rail Mounting, 35 x 7.5 mm as Per EN 60715
Output Format
Analog Output
Relay Output: Normally Open (N/O), Configurable as an Normally Closed (N/C)
Response Time
0 to 500 milliseconds Min. - for RS-485 Interface
Storage Temperature
-30° to 70° C (-22° to 158° F)
Supply Voltage
110-240 Vac (+10 % / -15 %), 48 to 63 Hz
20-30 Vac/Vdc, 48 to 63 Hz
Turn-On Time
5 seconds - Setting Time after Switching on or Reset
Vibration
Vibration Resistant: 1 G at 10 to 55 Hz as Per DIN IEC 60068-2-6