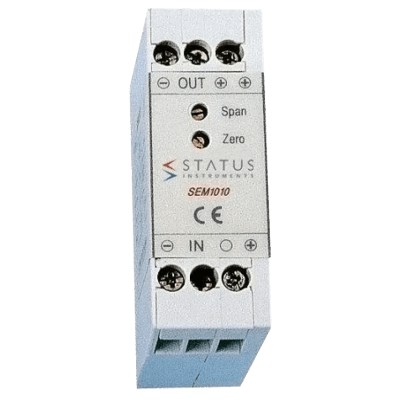 Images are representations only.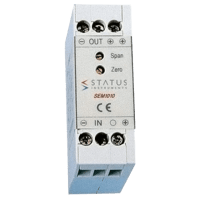 The SEM1010 is designed to provide an isolation barrier between a field mounted (4-20) mA transmitter and the process monitoring system.

The isolator output is a two wire (4-20) mA current sink. The SEM1010 derives it's power from the output loop.

This isolator requires no user adjustments during commissioning, apart from an initial test, to ensure it operates correctly over its full working range.

Minor adjustments can be made to the calibration of the device, by means of the two front panel accessible calibration potentiometers.

Incorrect connection in the loop will not damage the device as long as the specified maximum currents/voltages are not exceeded.
Specifications
Accuracy
± 0.05 % (± 0.008 mA) of Full Range Output
Adjustment Type
Front Entry Fine Zero & Span Adjustment
Ambient Temperature Range
0° to 70° C (32° to 158° F)
Approvals & Certifications
BS EN 61010-1 Pollution Degree 2, Installation CAT II, Class I
CE
EMC: BS EN 61326
Flammability: UL 94-VO VDE 0304 Part 3, Level IIIA
Humidity
10 to 95 % Relative Humidity, Non-Condensing
Isolation
500 Vdc (Flash Tested at 1 kV)
Mounting
Snap on Top Hat Rail Mounting (DIN EN 50022-35)
Response Time
< 100 milliseconds to Reach 70 % of Final Value
Size
Cable Size: 2.5 mm² Stranded
Cable Size: 4 mm² Solid
Supply Voltage
Transmitter Supply: 5-15 V, Max.
Voltage Drop
Loop Drop: 10 V, Max.
Loop Drop: 5 V at 20 mA (with a 10 V Transmitter Drop)
Loop Drop: 6.5 V, Max.