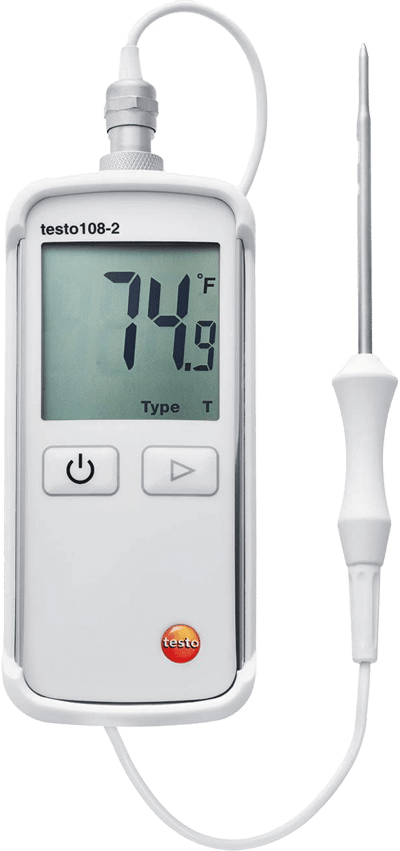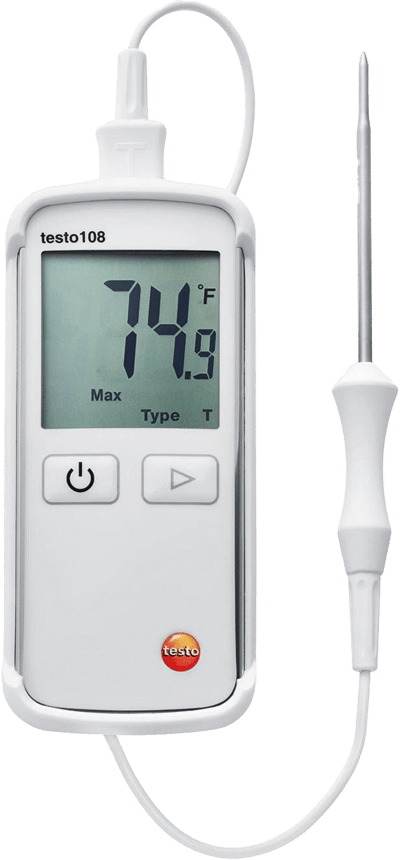 Images are representations only.
Testo 108-1 & 108-2 - Waterproof Digital Food Thermometer
Brand:
Testo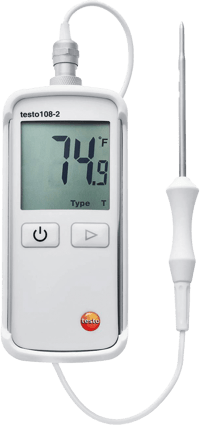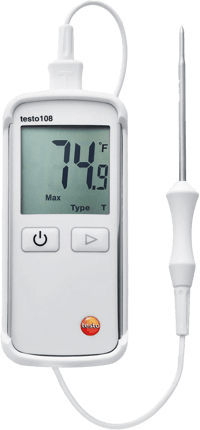 The Testo 108 waterproof food thermometer is the reliable and rugged solution for food measurement needs.

With a sleek, compact, waterproof housing and a lockable Type T probe (interchangeable Type T and Type K probes), the testo 108 is the best-in-class choice for food service (offers a wide variety of measurement options for most food applications).

Rugged and waterproof, the testo 108 food thermometer is the top contender in the varying aspects of food preparation.

The testo 108 allows for spot check measurements in seconds, during transportation and storage, in large kitchens or restaurants.

The testo 108 allows temperature measurement to be integrated into daily work routines worry-free, due to its tough, rugged design, and simple two button operation.

The testo 108 waterproof thermometer is not only HACCP compliant but can be cleaned under running water, making it ideal for use in the food sector.
Features
Testo 108-1 - Waterproof Food Thermometer


Rugged and waterproof IP67 protection stands up to the toughest of environments
HACCP compliant
Slim, sleek design and the large, backlit, display makes for comfortable handling
Compatible with Type T and Type K thermocouples for a variety of applications

Testo 108-2 - Waterproof Digital Food Thermometer


Easy to operate and use: lockable probe for a secure hold
Temperature measuring instrument with connected probe is waterproof (IP67)
Includes softcase and probe type T
HACCP-compliant and certified to EN 13485
Specifications
Delivery Scope
Testo 108-1 Waterproof Food Thermometer, Type K Thermocouple, User Guide, Calibration Protocol, and Batteries
Testo 108-2 Waterproof Food Thermometer, Lockable Type T Thermocouple, User Guide, Calibration Protocol, and Batteries
Weight
7.41 oz. (incl.battery and Softcase) / 210 g (incl.battery and Softcase)
5.43 oz. (incl. battery, without softcase) / 154 g (incl. battery, without softcase)
Dimensions
5.5 x 2.4 x 0.9 in. / 140 x 60 x 24 mm
Operating Temperature
-4° F to 140° F / -20° C to +60° C
Housing
ABS / ABS-PC fibre glass 10 %
Further Features
Auto-Hold, Hold and min./Max. Function
Battery Life
2500 h (typical, at 23° C)
Storage Temperature
-22° F to 158° F / -30° C to +70° C
Temperature - Type K TC
Measuring Range: -58° F to 572° F / -50° C to +300° C
Accuracy: ± 0.9° F (-22° F to 158° F) / ± 0.5° C (-30° C to +70° C) | ± 0.9° F ± 0.5 % of mv (-58.0° F to -22.0° F) / ± 0.5° C ± 0.5 % of mv (-50° C to -30° C) | ± 0.0° F ± 0.5 % of mv (+158° F to +572° F) / ± 0.5° C ± 0.5 % of mv (+70° C to +300° C)
Resolution: 0.1° F / 0.1° C
Temperature - TC Type T (Cu-CuNi)
Measuring Range: -58° F to 572° F / -50° C to +300° C
Accuracy: ± 0.9° F (-22° F to 158° F) / ± 0.5° C (-30° C to +70° C) | ± 0.9° F ± 0.5 % of mv (-58.0° F to -22.0° F) / ± 0.5° C ± 0.5 % of mv (-50° C to -30° C) | ± 0.0° F ± 0.5 % of mv (+158° F to +572° F) / ± 0.5° C ± 0.5 % of mv (+70° C to +300° C)
Resolution: 0.1° F / 0.1° C
Reaction Time: 10 sec (Measured in moving Liquid)
Monitoring Product Temperatures
Monitor Food Temperature: During Storage
Monitor Food Temperature: Incoming Goods