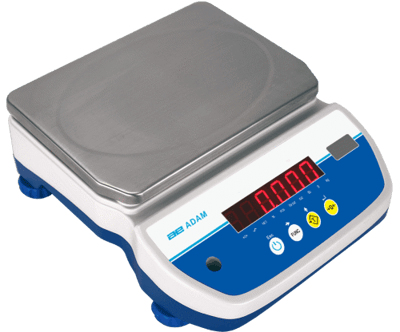 Images are representations only.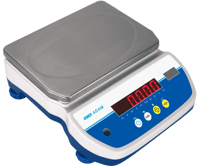 Ideal for food preparation, food processing units and harsh industrial environments, Aqua washdown scales are highly versatile. They're rated IP67 and feature a large removable stainless steel pan, so they're protected from water immersion with depth of up to one meter, making the Aqua suitable for applications that require frequent and repetitive cleaning.

Dual displays offer large front-facing and rear-facing LED displays. Combined with a quick stabilization time of one second, this allows more than one operator to use the Aqua simultaneously, enhancing user productivity. Checkweighing is simple with the LED color changing indicators to warn the operator if a sample being checked is low, ok or higher than the preset limits. The addition of highly accurate percentage weighing and parts counting functions provides operators with versatility and true value for money.

Power is supplied using the provided AC adapter or via the built-in rechargeable battery that offers up to 55 hours of continual use. The auto power-off function conserves battery life, ensuring operation goes uninterrupted regardless of location.
Features
Approval

IP67-rated for protection against water and dust
Hardware

Overload protection helps prevent damage to internal components
Solid ABS housing is durable for industrial use
Heavy-duty rubber feet ensure stability of unit
Checkweighing LEDs clearly show under, over and within acceptable limits
Software

External calibration allows for verification and adjustment with weights
Zero-tracking feature ensures display returns to zero reading
Stabilization time of within 1 second
Display

Sealed keypad protects against dirt and spills
Bright LED display for easy viewing in most environments
Front and rear 20mm LED displays allows for dual use
Power

The auto power-off feature conserves battery life
Rechargeable battery included for operation almost anywhere
AC adapter included
Specifications
Readability
0.01 1b / 5 g
0.002 lb / 1 g
0.005 lb / 2 g
0.001 lb / 0.5 g
Linearity / Repeatability (S.D.)
0.005 lb / 2 g
0.002 lb / 1 g
0.01 lb / 5 g
0.02 lb / 10 g
Pan Size
11.8" x 8.3" / 300 x 210 mm
9.6" x 7.1" / 245 x 180 mm
Display
LCD with 0.8" / 20 mm High Digits
Power Supply
12 Vdc 800 mA Adapter / Internal Rechargeable Battery
Operating Temperature
0° to 40° C (32° to 104° F)
Weighing 
Parts Counting 
Percentage Weighing 
Checkweighing