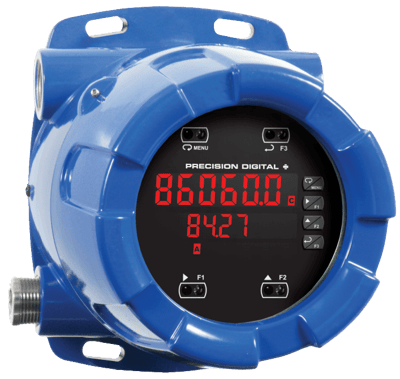 Images are representations only.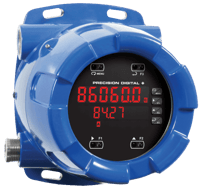 The ProtEX-MAX™ PD8-6060 offers all the functionality of the ProVu PD6060 as a fully FM, CSA, ATEX, and IECEx approved explosion-proof product.

It accepts two inputs of either a process current (4-20 mA) or process voltage (0-5V, 1-5V, etc.) signal. It displays these signals on a dual-line, 6-digit Sunbright sunlight readable display.

The meter can be customized such that these two inputs are displayed in a variety of ways, including both at the same time with tags or the result of math functions performed on one or both of the inputs.

The PD8-6060 includes a 24 VDC power supply to drive the transmitter and can be equipped with four internal relays and a 4-20 mA analog output.

It can be programmed and operated without opening the housing by using the built-in SafeTouch® through-glass buttons or the RS485 serial communication port with free Modbus® protocol.
Features
Dual-Input Process Meter with Math Functions
Addition, Difference, Average, Multiplication, Division, Min, Max, Weighted Average, Ratio, Concentration, & More
0-20 mA, 4-20 mA, 0-5 V, 1-5 V, and ±10 V Inputs
Large Dual-Line 6-Digit Display, 0.60" & 0.46"
SunBright Display Standard
SafeTouch® Through-Glass Button Programming
Input Power Options Include 85-265 Vac or 12-24 Vdc
Isolated 24 Vdc at 200 mA Transmitter Power Supply
Programmable Display and Function Keys
32-Point, Square Root, or Exponential Linearization
Multi-Pump Alternation Control
2 or 4 Relays + Isolated 4-20 mA Output Options
External 4-Relay & Digital I/O Expansion Modules
RS-232, & RS-485 Serial Communication Options
Modbus® RTU Communication Protocol Standard
On-Board Digital Input
Onboard USB and MeterView® Pro Programming Software
4 models matching criteria
Specifications
Operating Temperature
-40° to 65° C (-40° to 150° F)
Environmental Protection
IP66
IP68
NEMA 4X
NEMA 7
NEMA 9
Approvals & Certifications
ATEX, II 2 GD Ex d IIC T* Gb Ex Tb IIIC T90° C Db
CSA Class I, Div. 1, Groups B, C, D, Class II, Div. 1, Groups E, F, G Class III, Div. 1, Class I, Zone 1 Ex d IIC Zone 21 Ex Tb IIIC T90° C
FM Class I, Div. 1, Groups B, C, D Class II, Div. 1, Groups E, F, G Class III, Div. 1, T5/T6 Class I, Zone 1, AEx d, IIC Gb T5/T6 Zone 21, AEx Tb IIIC T90° C
IEC Ex d IIC T* Gb Ex Tb IIIC T90° C Db
Product Type
Explosion-Proof Dual Process Input Meter
Approvals
ATEX (FP)
CE
CSA (XP)
FM (XP)
IEC (FP)