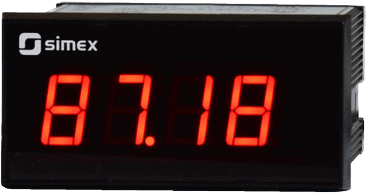 Images are representations only.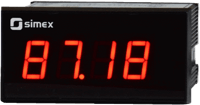 The low-cost SWE-73-S is a simple digital panel indicator intended for displaying any numerical values and characters defined by user - in SLAVE mode only, sent from the master device over the RS-485 serial interface link.

The displayed value may be collected from other device - in MASTER mode.

The display brightness can be adjusted in 8 steps.

The RS-485 interface makes it easy to set up measurement networks in production process monitoring systems, and also to use the indicators as smart, programmable, digital converters of input signals for computer systems.

An additional advantage of the device is that its dimensions are small and it can be easily mounted.

The meter can be configured with IR remote controller or free S-Config software via the RS-485 communication port.

Configuration of the device can also be programmed to the customer's order.
Features
Low-cost Meter in a Small Case
No Analog Input
RS-485 / Modbus RTU
MASTER / SLAVE
Brightness Adjustable in 8 Steps
All Parameters are Freely Programmable with Remote Controller or Free Configuration Software S-Config
Specifications
Power Supply
110 Vac
230 Vac
10…30 Vdc
Transmission Parameters
1200...115200 bit/s
8N1 / 8N2
Protection Class
IP 40: Front
IP 20: Case and Connection Clips
Optional Integrated Frame for Panel Cut-out Sealing
Case Dimensions
72 x 36 x 77 mm - 10...30 Vdc
72 x 36 x 94 mm - 110 Vac and 230 Vac
Documentation
Certifications and Approvals
Datasheet
Manual