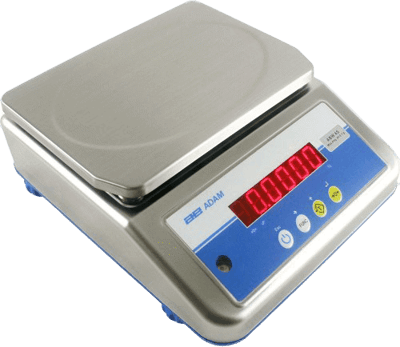 Images are representations only.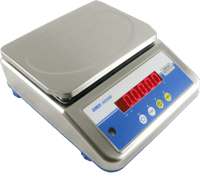 For ultimate dependability, the Aqua ABW-S boasts IP68 washdown protection, meaning it's suitable for weighing messy or dusty materials in demanding environments. In addition to the easy-to-clean grade 304 stainless steel housing and platform, the pan is removable for hygienic maintenance. Overload protection helps safeguard the scale against accidental overloads for a reliable, long-lasting weighing solution.

Well-suited for food processing, batching and packaging, the Aqua offers features designed to improve productivity.

The bright LED displays clearly shows results in the front and rear of the scale, allowing multiple users to use the same scale, while hidden color-changing indicators light up during checkweighing to show if results are over, under or within preset limits.

Percentage weighing makes baking and recipe batching effortless, while parts counting speeds up packaging tasks. Take advantage of the internal rechargeable battery for operation anywhere, including areas where access to power is limited. The Aqua's quick stabilization time means weighing tasks are faster and more efficient.
Features
Approval

IP68-rated for protection against water and dust
Hardware

Overload protection helps prevent damage to internal components
Solid ABS housing is durable for industrial use
Heavy-duty rubber feet ensure stability of unit
Checkweighing LEDs clearly show under, over and within acceptable limits
Software

External calibration allows for verification and adjustment with weights
Zero-tracking feature ensures display returns to zero reading
Stabilization time of within 1 second
Display

Sealed keypad protects against dirt and spills
Bright LED display for easy viewing in most environments
Front and rear 20mm LED displays allows for dual use
Power

The auto power-off feature conserves battery life
Rechargeable battery included for operation almost anywhere
AC adapter included
Specifications
Readability
0.0002 1b / 0.1 g
0.002 lb / 1 g
0.004 lb / 2 g
0.001 lb / 0.5 g
Linearity (±)/Repeatability (S.D.)
0.004 lb / 2 g
0.002 lb / 1 g
0.004 lb / 0.2 g
0.01 lb / 5 g
0.02 lb / 10 g
Pan Size
11.8" x 8.3" / 300 x 210 mm
9.6" x 7.1" / 245 x 180 mm
Display
LCD with 0.8" / 20 mm High Digits
Power Supply
12 Vdc 800 mA Adapter / Internal Rechargeable Battery
Operating Temperature
0° to 40° C (32° to 104° F)
Weighing 
Parts Counting 
Percentage Weighing 
Checkweighing
Dynamic / Animal Weighing 
Accumulation
Display Hold 
Peak Hold
Barcode / Label Printing