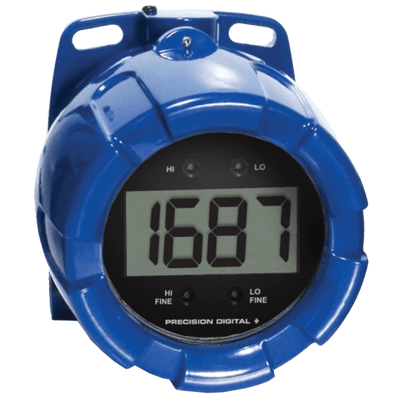 Images are representations only.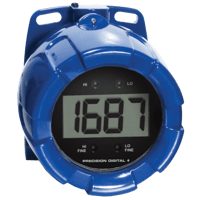 The PD6870 is an FM Approved, CSA Certified and ATEX and IECEx Certified explosion-proof loop-powered indicator that is easy to install and program.

It can be seen from considerable distance and even in bright sunlight.

The fact that this meter is loop-powered means that there is no need to run additional, costly power lines into a hazardous area.

The meter gets all of the power it needs from the 4-20 mA loop and its 1 V drop results in a minimal burden on the loop.

The meter features a wide -40 to +75°C operating temperature range and comes with two ¾" NPT threaded conduit openings and flanges for wall or pipe mounting.

Calibration is a quick two-step process involving the adjustment of only high and low, non-interacting potentiometers.
Features
Explosion-Proof / Flame-Proof Loop-Powered Process Meter
4-20 mA Input
1.0" or 25.4 mm 3½ Digits LCD Display; -1999 to 1999
1 Volt Drop - 4 Volt Drop with Backlight
HART® Protocol Transparent
Loop-Powered Backlight Option
Operates from -40 to 75°C / -40 to 167°F
Coarse and Fine Zero & Span Potentiometer Adjustments for Easy Field Scaling
Flanges for Wall or Pipe Mounting
Explosion-Proof, IP68, NEMA 4X Die-Cast Aluminum Enclosure
FM Approved as Explosion-Proof / Dust-Ignition Proof / Flame-Proof
CSA Certified as Explosion-Proof / Dust-Ignition Proof
ATEX and IECEx Certified as Flame-Proof
Conformal Coated PCBs for Dust and Humidity Protection
Two ¾" NPT Threaded Conduit Openings - One Plug Installed
Pipe Mounting Kits
Stainless Steel Tag Available
PRECISION DIGITAL Loop-Powered Process Meter, Explosion-Proof, 3.5-Digit LCD, 4-20 mA, -40° C to +75° C
view more
Product Type: Explosion Proof Loop Powered Indicator
Inputs:  Current (4-20mA)
Display: 1.0" High, 3-1/2 Digits LCD
Backlight: Standard
Power: Loop-Powered
Outputs: None
Transmitter Power: None
Digital Inputs: None
Serial Communication: None
Approvals: CE, CSA (XP), FM (XP), ATEX (FP), IECEx (FP)
Warranty: 3 Years
PRECISION DIGITAL Loop-Powered Process Meter, Explosion-Proof, 3.5-Digit LCD, 4-20 mA, -40° C to +75° C
view more
Product Type: Explosion Proof Loop Powered Indicator
Inputs:  Current (4-20mA)
Display: 1.0" High, 3-1/2 Digits LCD
Backlight: None
Power: Loop-Powered
Outputs: None
Transmitter Power: None
Digital Inputs: None
Serial Communication: None
Approvals: CE, CSA (XP), FM (XP), ATEX (FP), IECEx (FP)
Warranty: 3 Years
Specifications
Approvals & Certifications
ATEX, II 2 GD. Ex d IIC T6 Gb. Ex Tb IIIC T85° C Db
CSA Class I, Div. 1, Groups B, C, D, Class II, Div. 1, Groups E, F, G, Class III, Div. 1, T6. Class I, Zone 1, Ex d IIC T6
FM Class I, Div. 1, Groups B, C, D, Class II, Div. 1, Groups E, F, G, Class III, Div. 1, T6. Class I, Zone 1, AEx d IIC T6 Gb. Zone 21, AEx Tb IIIC T85° C
IEC Ex d IIC T6 Gb. Ex Tb IIIC T85° C Db
Enclosure, Body Material
Explosion-proof Die Cast Aluminum with Glass Window
Operating Temperature
-40° to 75° C (-40° to 167° F)
Storage Temperature
-40° to 75° C (-40° to 167° F)
Voltage Drop
1 Vdc at 20 mA without Backlight
4 Vdc at 20 mA with Loop-Powered Backlight