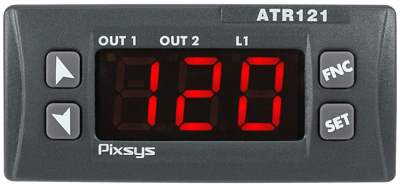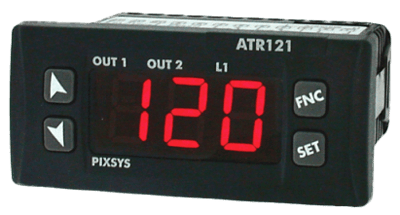 Images are representations only.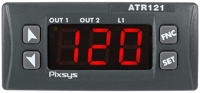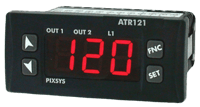 The ATR121 is a dual-setpoint controller with a 3-digit red LED display.

The input is configurable for thermocouples type J, K, S and R; Pt100; PTC1000; Ni100; NTC10k (typically used in the refrigeration industry); Pt500/Pt1000 (widely used in air-conditioning); 0-1 V; 0-10 V; 0 to 20 mA and 4 to 20 mA.

Potentiometers with a full scale value of 6 KiloOhms or 150 KiloOhms may also be used and there is a "latch on" function for quick calibration and setting of minimum, maximum and zero via the front keys.
Features
Low-cost single-loop control
Ideal for temperature, flow, level, pH or pressure measurements, and many others
Two setpoints for control and alarm
Universal analogue input for current, voltage, thermocouple, RTD, thermistor or potentiometer
Relay and SSR outputs
Highly configurable; one model suits many applications
CE Marked and UL Recognized
Specifications
Accuracy
0.2 % ± 1-Digit for mA/V
0.5 % ± 1-Digit for TC/RTD
Applications
Driers
Environmental Chambers
Food Industry
Injection Molding
Ovens / Furnaces
Refrigerators
Safety Panels
Sterilizers
Approvals & Certifications
Control Functions Characteristics
Heating/Cooling PID
ON/OFF
PID Autotuning
Display
3-Digit Red LEDs Plus Decimal Point
Environmental Protection
IP20 - Terminal Blocks
IP30 - Housing
IP54 - Front Panel
IP65 - Gasket
Humidity
35 to 95 % Relative Humidity
Operating Temperature
0° to 40° C (32° to 104° F)
Output Format
Alarm Output
Relay Output
Relay Output
5 A - Alarm Relay
8 A - Control Relay
Response Time
66 milliseconds - Sampling Time
RTD Type
Ni100
Potentiometer ≤ 6 or ≤ 150 kiloohms
Pt100
Pt1000
Pt500
Sensor, Probe Type
J Thermocouple
K Thermocouple
NTC
PTC
RTD
R Thermocouple
S Thermocouple
Supply Voltage
115 Vac
12-24 Vac/dc
230 Vac