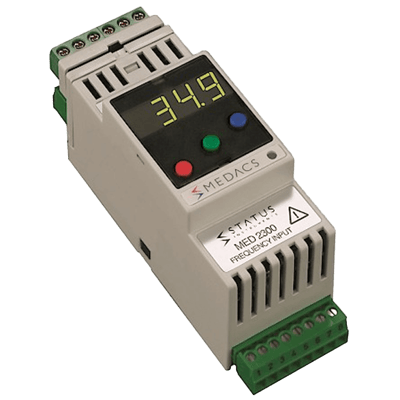 Images are representations only.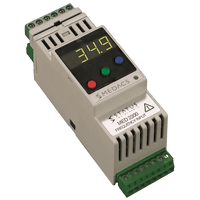 The MEDACS intelligent signal conditioner consists of a family of DIN rail modules, each one having a high degree of functionality and configurability via a RS485 MODBUS serial communications interface or through push buttons on the single channel version.

They are suitable for RTD, thermocouple, voltage, current and frequency signals and provide an isolated 4-20 mA re-transmission signal, 2 changeover trip relays or 4 normally open relays or various combinations.

For high density systems, dual channel versions are available or for systems that require more local input, single channel versions with an in-built keypad and digital display are available where functions can be accessed via the front panel keys.

Each unit comes complete with a RS485 serial communications port which enables the devices to be integrated into a complete process control system.

Unit wiring is simplified and speeded up by using the integral 'bus jumper' system provided with each unit which removes the need for complicated and expensive back plane wiring.
Specifications
Accuracy
Cold Junction Error: ± 0.5° C (± 0.9° F)
Cold Junction Tracking: 0.05° C/°C
Current Input - Base Accuracy: 0.05 % of Full Scale ± 0.05 % of Reading
Current Re-Transmission Outputs: 0.07 % or 5 µA, whichever is greater
Frequency Inputs: 0.003 % of Full Scale
RTD - Basic Accuracy: 0.1° C (0.18° F) ± 0.05 % of Reading
Thermocouple: ± 0.04 % of Full Scale ± 0.04 % of Reading or ± 0.5° C (0.9° F) whichever is greater
Voltage Input - Range: 0.04 % of Full Scale ± 0.04 % of Reading
Alarm
Deviation
High
Low
Off
Test
Approvals & Certifications
EMC Emissions & Immunity: BS EN 61326
Communication
Baud Rate: 19.2, 9.6, 1.2 Kbps
Modbus
RS-485
Current
25 mA
Excitation Current: 1 mA
Delay Time
Programmable (Alarm Must be Continuously Present for This Period in Order to be Recognised)
Electrical Contacts
Contacts are normally closed i.e. the contact is closed at power off & when operating in an alarm condition. The contact opens in the absence of an alarm condition. The active function can be reversed in software.
Humidity
10 to 90 % Relative Humidity
Hysteresis
Programmable (0 to 100 %)
Input
± 0.1 V
± 1 V
± 10 mA
± 10 V
± 100 mV
± 20 mA
± 5 V
1-5 V
4-20 mA
Input Impedance
Current Input: 20 ohms
Voltage Input: 1 Megaohm
Isolation
Breakdown: 1 kV I/P~O / P~PSU
Operating Temperature
-30° to 60° C (-22° to 140° F)
Operating Temperature - Sensor
-200° to 850° C (-328° to 1,562° F)
Operation
Electrical Life at Full Load: 100,000 Operations
Mechanical Life: 10,000,000 Operations
Resistance
Maximum
Relay Outputs - Contact Resistance: < 100 megaohms
Resistance Effect
Lead Resistance Effect: 0.002° C/ohms
Sensor, Probe Type
B Thermocouple
E Thermocouple
J Thermocouple
K Thermocouple
L Thermocouple
N Thermocouple
R Thermocouple
S Thermocouple
T Thermocouple
Stability
Temperature Stability: 5 µA/°C
Storage Temperature
-50° to 85° C (-58° to 185° F)
Temperature Range
-1,999° to 9,999° C (-3,566.2° to 5,537.2° F)
Cold Junction Range: -20° to 60° C (-4° to 140° F)
Thermal Drift
Current Input / Voltage Input / Thermocouple - Span: 0.02 %/°C
RTD - Span: 0.01 %/°C
RTD - Zero: ± 0.004 ohms/°C
Thermocouple - Zero: 4 µV/°C