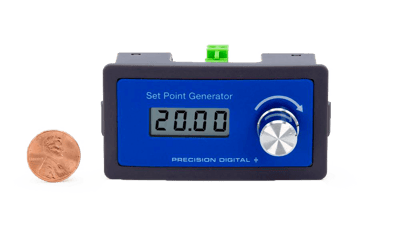 Images are representations only.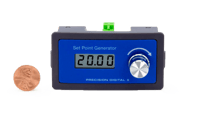 The PD420 4-20 mA current loop set point generator provides a convenient way to generate a 4-20 mA signal that can be used to control another device.

The PD420 features a backlit LCD display that can be programmed to display 0-100%, 4-20 mA or 3-21 mA and output either 4-20 mA or 3-21 mA.

A built- in dial is provided to vary the displayed / output value.

The dial may be programmed for coarse or fine adjustment.
Features
4-20 mA Current Loop Set Point Generator
4-20 mA or 3-21 mA Output Ranges
Set Point Displayed as 0-100%, 4-20 mA, or 3-21 mA
Built-in Dial for Changing Output
Backlit Display
Coarse or Fine Set Point Adjustment
+/- 0.5% Output Accuracy
0.01 Display Accuracy
15-30 VDC Power Requirement
< 500 ohms Sampling Resistance
Specifications
Display
0.3" (8 mm) High backlit LCD
Display Modes
Current, 0-100 %, 0-50.0 Hz
Display Change Adjustment
User may Program Coarse and fine Adjustments such that each pulse on the dial results in a change of between 1 and 50 counts on the display.
Operating Temperature Range
-4° to 140° F (-20° to 60° C)
Connections
Removable Screw Terminal Block