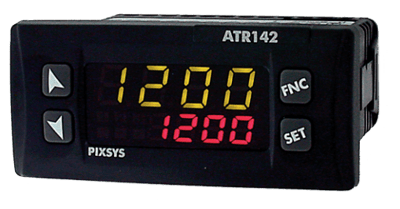 Images are representations only.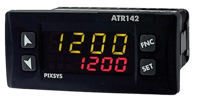 This triple-setpoint controller has a dual red/green LED display which shows the process variable and setpoint value at the same time.

The built-in switching power supply has an extended range of 24-230 Vac/Vdc and does not require any jumper setting.

The Analog input is selectable for thermocouples J, K, R and S; Pt100; PTC1000; Ni100; NTC10k (refrigeration industry); Pt500/Pt1000 (widely used in air-conditioning); 0-10 V; 0 to 20 mA and 4 to 20 mA.

Potentiometers with full scale up to 6 KiloOhms and 150 KiloOhms may also be used and there is a "latch on" function for quick calibration and setting of minimum, maximum and zero via the front keys.
Features
Dual Displays Show the Measured Value and Setpoint at the Same Time
Three Setpoints for Control and Alarm
Ideal for Temperature, Flow, Level, pH or Pressure Measurements, and Many Others
Universal Analog Input for Current, Voltage, Thermocouple, RTD, Thermistor or Potentiometer
Relay, SSR and RS485 Modbus Output Options
Highly Configurable: One Model Suits Many Applications
CE Marked and UL Recognized
Input - Selectable
Output - 1 Relay + SSR + RS-485
Power Supply - 24-230 Vac/dc ± 15%, 50/60 Hz
Specifications
Accuracy
0.2 % ± 1-Digit for mA/V
0.5 % ± 1-Digit for TC/RTD
Applications
Building Automation
Cereal, Pet Food & Grain Dryers
Chillers
Dairy Industry
Environmental Chambers
Galvanizing
Heating Element Control
Indicator for Inverters
Leather & Footwear Machinery
Metal Working
Refrigeration Equipment
Sterilizers
Approvals & Certifications
Control Functions Characteristics
Heating/Cooling PID
ON/OFF
PID Autotuning
Display
4-Digit Green + 4-Digit Red LED
6 Status LEDs
Environmental Protection
IP20 - Terminal Blocks
IP30 - Housing
IP54 - Front Panel
IP65 - Gasket
Humidity
35 to 95 % Relative Humidity
Operating Temperature
0° to 40° C (32° to 104° F)
Relay Output
5 A - Alarm Relay
8 A - Control Relay
Response Time
15 milliseconds - Sampling Time
RTD Type
Ni100
Potentiometer ≤ 6 or ≤ 150 kiloohms
Pt100
Pt1000
Pt500
Sensor, Probe Type
J Thermocouple
K Thermocouple
NTC 10k
PTC1000
RTD
R Thermocouple
S Thermocouple