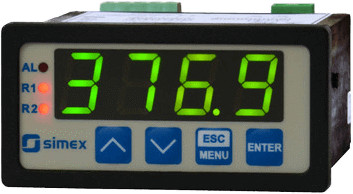 Images are representations only.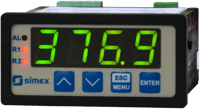 The SRP-73 meter is designed for measuring of typical current or voltage signals.

Easy programming and installation, small size and high reliability are basic advantages of the SRP-73 process meters.

Thanks to wide range of characteristic curves: linear, square root, quadratic, user-defined and volume characteristic for cylindrical tanks, the meters may be used in various process control systems.

The 24V DC / 100 mA output is designed to supply measuring transducers, and the RS-485 port enables data transmission in production process monitoring systems.

The REL / OC control outputs can adjust the level of measured signal and are controlled according to one or two threshold values.

The meter can be configured with the local keyboard or free S-Config software via the RS-485 communication port.
Features
Process Meter in a Small Case
2 Display Types: 4 x 13 mm or 5 x 9 mm
Inputs: 0/4-20 mA, 0/1-5V, 0/2-10V, 0-60/75/100/150 mV
0, 1 or 2 Relay - or OC Outputs
Power Supply Output: 24V DC
RS-485 / Modbus RTU
Free Configuration Software S-Config
Specifications
Type of Input
0-20 mA, 4-20 mA, 0/1-5 V, 0/2-10 V
0-60/75/100/150 mV
Power Supply
24 Vac/dc
85 V ÷ 260 Vac/dc
12 Vac/dc
Options
No Options
Integrated Frame for Panel Cut-out Sealing
Operating Temperature -20° C ÷ +50° C
Integrated Frame for Panel Cut-out Sealing + Operating Temperature -20° C ÷ +50° C