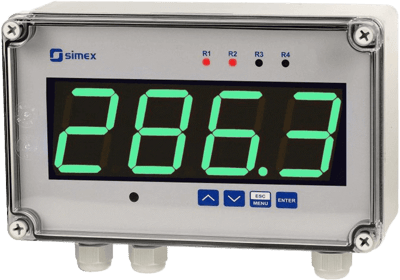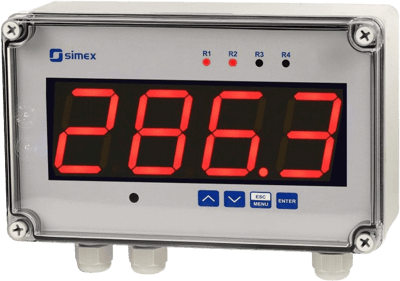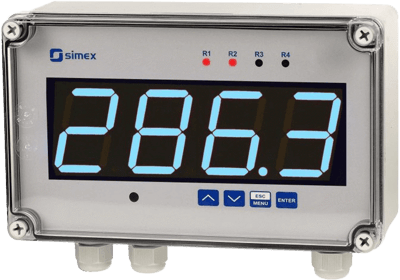 Images are representations only.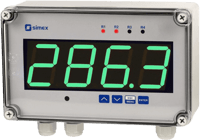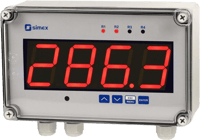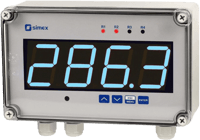 The SWS-457 is a simple digital panel indicator intended for displaying any numerical values and characters defined by user - in SLAVE mode only sent from the master device over the RS-485 serial interface link.

The displayed value may be collected from other device - in MASTER mode.

As a main advantage, this device is equipped with a large, 57 mm high display offering ultra bright red, green and blue as well as multicolour LED's.

User can change display colour in 9 steps range - through light green, yellow and through green and display brightness in 8 steps range.

Thanks to the tight housing with high: IP 67 protection degree, this device is particularly suitable for operations in harsh environments.

The 24V DC / 100 mA output is designed to supply measuring transducers, and the RS-485 port enables data transmission in production process monitoring systems.

The meter may be configured with no need to open the case, by using the remote controller or with free S-Config software via the RS-485 communication port.
Features
Indicator in Tight Wall-mounted Case IP 67
Multicolour or Ultra Bright Red, Green and Blue, 57 mm LED Display
Power Supply Output: 24V DC
RS-485 / Modbus RTU
MASTER / SLAVE
Adjustment of Colours and Brightness for the Display
Password Protected
Free Configuration Software S-Config
Specifications
Power Supply
16...35 Vac, 19...50 Vdc
85..260 Vac/dc
Display
LED, 4 x 57 mm, Multicolour
LED, 4 x 57 mm, Ultra Bright: Red, Green, Blue
Transmission Parameters
1200...115200 bit/s
8N1 / 8N2