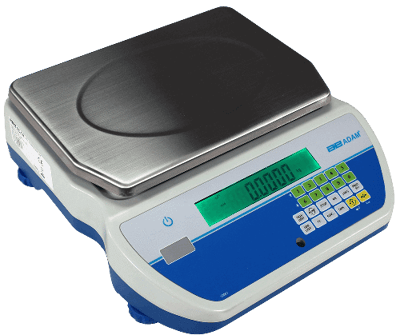 Images are representations only.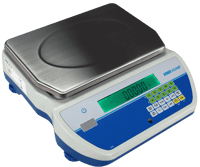 Reliable performance and durable construction make the CKT unmatched in value for industrial weighing.

Ideal for many applications, the CKT quickly accomplishes basic weighing, parts counting, and checkweighing to help users meet company and regulatory guidelines. Repetitive weighing tasks are fast, with a backlit display that changes colors to show if a sample is under, over, or within the preset limits.

The compact design is ideal for limited workspaces or when multiple scales are not an option. CKT stores and recalls up to 150 PLUs (50 each for weighing, parts counting and percentage weighing applications) to improve efficiency.
Features
Hardware

Color-coded keys facilitate quick recognition of the most frequently used buttons
Large, grade 304 stainless steel pan allows swift cleaning
RS-232 interface is available to provide speedy connection to computers and printers
Optional USB interface simplifies data communication
Sealed keypad protects against dirt and spills
Solid ABS housing is durable for industrial use
Adjustable leveling feet help optimize setup
Drip channels help divert spills away from the scales internal components
Software

Checkweighing with audible alarm
External calibration allows for verification and adjustment with weights
Internal counting resolution 1:600,000 for precise results
Parts counting optimization automatically refines piece weight as parts are added
Parts counting with freely selectable sample sizes
Preset tare function speeds the process of repetitive weighing
Display

Backlit display changes color for quick notification of checkweighing limits
Power

Programmable auto power-off to save energy
Rechargeable battery included for operation almost anywhere
Specifications
Capacity
8 lb / 4 kg
16 lb / 8 kg
35 lb / 16 kg
70 lb / 32 kg
100 lb / 48 kg
Readability
0.001 lb / 0.5 g
0.002 lb / 1 g
0.005 lb / 2 g
0.0002 lb / 0.1 g
0.0005 lb / 0.2 g
0.0001 lb / 0.05 g
Repeatability (S.D.)
0.0004 lb / 0.2 g
0.001 lb / 0.4 g
0.002 lb / 1 g
0.004 lb / 2 g
0.01 lb / 4 g
Linearity
± 0.0006 lb / 0.3 g
± 0.003 lb / 1.5 g
± 0.01 lb / 0.6 g
± 0.006 lb / 3 g
0.01 lb / 6 g
0.003 lb / 1.2 g
Pan Size
8.3" x 11.8" / 210 x 300 mm
Display
Backlit LCD with 0.6" / 15 mm High Digits
Power Supply
12 Vdc 800 mA Adapter / Internal Rechargeable Battery
Operating Temperature
-10° to 40° C (14° to 104° F)
Weighing 
Parts Counting 
Percentage Weighing 
Checkweighing
Check Counting 
Accumulation
Net Total Weighing