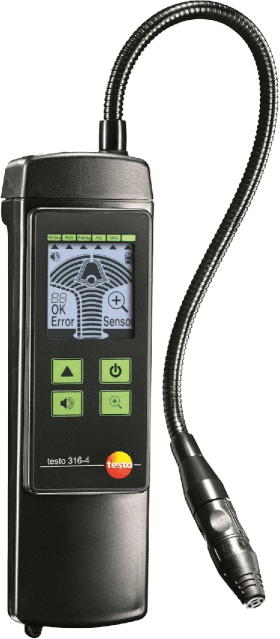 Images are representations only.
Testo 316-4 - Refrigerant Leak Detector
Brand:
Testo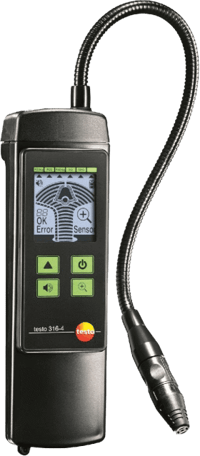 Everything you need for professional leakage detection: the Testo 316-4 set 1 with leak detector for all common refrigerants CFC, HFC, HCFC and H₂, including refrigerant sensor head, case, mains unit and earphones.

You will therefore be ideally equipped to carry out quick, reliable leakage detection.

Leaks on a refrigeration system or heat pump have serious consequences.

The system no longer provides the required cooling capacity and, in the worst case scenario, system components can be damaged.

Not to mention the environmental damage and the costs incurred by your customer.

You need fast, reliable measuring instruments such as the Testo 316-4 leak detector in order to be able to detect even the smallest of leaks.

Advantages of the Testo 316-4 Set 1 Leak Detector

An all-rounder in leak detection: the Testo 316-4 leak detector (set 1) is a fast, reliable leak detector for all common refrigerants
Practical sensor technology: the leak detector`s sensor is permanently monitored and displays malfunctions or contaminations on the screen. The use of test leaks is therefore no longer necessary. If dirty, the sensor can be easily cleaned and is then ready for use again straight away. Moreover, thanks to its flexible gooseneck, the sensor can be positioned close to the pipework or the measuring location
High sensitivity: its extremely high sensitivity of ˂3g/a in accordance with EN 14624 enables reliable detection of even the smallest leaks. The drag pointer function indicates maximum leakages, making it easier to locate leaks
Reliable warning functions: if a leak is found, the display changes from green to red. An audible signal also indicates that a leak has been detected. The earphones included in the set also enable the Testo 316-4 leak detector to be used in loud environments.
Further options for ammonia: for refrigeration systems that operate with ammonia, you can upgrade the Testo 316-4 leak detector (set 1) using the spare head for ammonia (NH3). Or you can purchase the Testo 316-4 leak detector (set 2) specifically for ammonia
Features
Extremely high sensitivity of ˂3g/a enables detection of even the smallest leaks
Visual and acoustic alarm for optimum leakage detection
Permanent sensor check, ensuring that your work is both safe and fast
Earplug connection for safe leakage detection in loud environments
Specifications
Delivery Scope
Testo 316-4 Leak Detector including Refrigerant Sensor Head, Case, Mains Unit and Earphones
Start-up Time
< 50 sec (0° C ... +50° C)
Detectable
R134a, R22, R404A, H₂ and all Common Refrigerants such as CFC, HCFC, HFC NH₃ (Separate Sensor Head)
Leakage Alarm
Optical and Audible Alarm
Battery Type
1 Battery Block (6 Cells NiMh)
Battery Life
6 h (Continuous Operation)