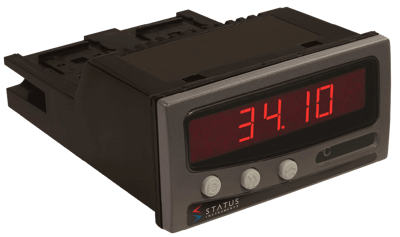 Images are representations only.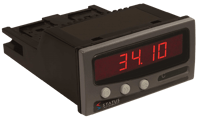 The DM3400 series uses proven technology to accept all commonly used temperature or process inputs.

Engineering units are displayed on a high efficiency Red LED display that provides excellent readability. The DM3410 takes inputs directly from Pt100 or Thermocouple sensors for Temperature indication.

The DM3420 current and voltage for Process indication. The DM3420 also has a transmitter power supply built in for excitation of 2-Wire (4 to 20) mA process transmitters.

The highly innovative case design enables output option 'Pods' to be easily installed without the need for dismantling or recalibration.

'Plug and Play' Pods are available covering:

POD-02 2 x Relay outputs
POD-03 Active or Passive Isolated re-transmission ((0 to 10) mA, (0 to 20) mA, (4 to 20) mA)
A maximum of 2 POD outputs can be fitted to each indicator. The indicator provides a transmitter power supply on the output to excite the POD-03 current retransmission.

Output combinations are

Dual Relay Pod and Retransmission Pod
Dual Relay Pod and Dual Relay Pod
Dual Relay Pod
Retransmission Pod
The front panel is sealed to IP65 and the case has a moulded in rubber gasket enabling it to seal to the panel maintaining the IP65 rating, ideal for installing it in 'dusty' areas or where low pressure jets of water are used to clean down equipment.

The unit is programmed using the three push buttons on the front panel where the user is guided through the configuration process.
4 models matching criteria
Specifications
Accuracy
0.05 % of Full Scale (Process Indicator)
Cold Junction Error: ± 0.5° C (± 0.9° F) (Universal Temperature Indicator)
Cold Junction Tracking: 0.05° C/°C (Universal Temperature Indicator)
Isolated Re-Transmission: 0.07 % of Full Scale
Approvals & Certifications
Electrical Safety: UL BS EN 61010-1, Flammability: UL 94VO
EMC BS EN 50081-1 (Emissions), BS EN 50082-2 (Susceptibility)
Flammability: IEC 707 FV0
Current
0-20 mA (Process Indicator)
Excitation Current: 300-550 µA (Universal Temperature Indicator)
Ripple Current: < 3 µA
Display
4-Digit Red LED (14.2 mm High/High Intensity)
-999 to 9,999
Electrical Connectors
Termination: Screw Terminal
Electrical Contacts
2 x Changeover Relays Common Wiper
Excitation Voltage
24 V ± 5 % at 50 mA (Process Indicator)
Humidity
10 to 90 % Relative Humidity, Non-Condensing
Indication
4 Alarm Red LED Indicators 2.5 mm High Numeric
Input Impedance
Current: 47 ohms (Process Indicator)
Voltage: 1 Megaohm (Process Indicator)
Isolation
500 Vac: Breakdown Isolation, Input/Output RMS (Galvanically Isolated)
Linearization
Linear (Process Indicator)
Square Root (Process Indicator)
Materials of Construction
Measurement Accuracy
RTD: 0.1° C (32.18° F) ± 0.05 % of Reading (Universal Temperature Indicator)
Thermocouple: ± 0.04 % of FRI ± 0.04 % of Reading or 0.5° C (0.9° F), whichever is greater (Universal Temperature Indicator)
Operating Temperature
-30° to 60° C (-22° to 140° F)
Power Supply
S1: 90-253 Vac, (50/60 Hz)
S2: 20-35 Vdc
Resistance
Maximum
Sensor: 18 to 390 ohms (Universal Temperature Indicator)
Resistance Effect
Lead Resistance Effect: 0.002° C/ohms (Universal Temperature Indicator)
Sensor, Probe Type
E Thermocouple
J Thermocouple
K Thermocouple
L Thermocouple
N Thermocouple
RTD
R Thermocouple
S Thermocouple
T Thermocouple
Storage Temperature
-50° to 85° C (-58° to 185° F)
Supply Voltage
0-10 V (Process Indicator)
Maximum
Temperature Range
Cold Junction Range: -30° to 60° C (-22° to 140° F) (Universal Temperature Indicator)
Sensor: -200° to 850° C (-328° to 1,562° F) (Universal Temperature Indicator)
Thermal Drift
Span: 0.01 %/°C
Zero: 0.008° C/°C (Universal Temperature Indicator)
Zero: 0.1 µV/°C
Time Constant
Filter Off: < 1 second (to 63 % of Final Value)
Update Time
250 milliseconds, Max.
Warm-Up Time: 120 seconds to Full Accuracy