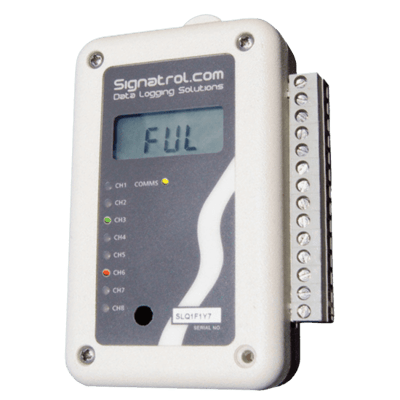 Images are representations only.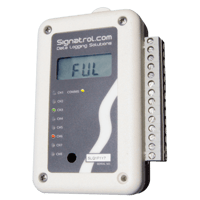 The SL7000 Data Loggers have a very flexible combination of inputs from a single temperature up to 4 universal inputs each of which can be individually configured to accept most common sensors.

The SL7000 data loggers comprise of twelve different models.

All have an internal temperature sensor and a digital input which can be used as a trigger to start logging or for interfacing with devices with a pulse output.

An optional internal relative humidity sensor with ±2% accuracy is available and all units will accept an optional external temperature and relative humidity sensor.

Eight models have either two or four universal inputs. Each universal input is configured in the software to accept most of the common industrial sensors, Pt100, thermocouple, mA, mV, Volts, thermistors, slidewire, Cu and Ni.

It is possible to have any combination of these sensors and the configuration can be changed at any time provide great flexibility.

The base SL7000 data logger and those with two universal inputs have the ability to store up to 62,000 readings whereas the data loggers with four universal inputs will store up to 128,000 readings.

This gives a total of 9 channels - internal temperature, internal pulse counter, internal relative humidity, external temperature & relative humidity and either two or four universal inputs.

Each SL7000 series data logger is supplied with the TempIT-Pro configuration and analysis software.

The TempIT-PRO software allows full configuration as well as the ability to download the stored readings, produce a graph and save the readings.

The Pro version of the software also allws you to export the data to a spreadsheet, view the data in a tabular format, add comments and arrows to the graph and use the automatic calculations like MKT, F0, A0 etc.
Specifications
Accuracy
± 0.01 % of FSD
± 0.02 % of FSD - Slidewire
± 0.1 % of FSD ± 0.5° C (± 0.9° F) - Thermocouple Typical K, J, T, N
± 0.1° C (± 0.18° F) at 0.1 % of Reading - Pt100 (EN 60751)
± 0.2 % of FSD ± 0.5° C (± 0.9° F) - Thermocouple S, R, B
± 0.2° C (± 0.36° F) at ± 0.1 % of Reading - Ni100, Ni120, CU100
± 0.2° C (± 0.36° F) at 0.1 % of Reading - Pt100 (JISC)
± 0.3° to ± 1° C (± 0.5° to ± 1.8° F) over the Range -30° to 70° C (-22° to 158° F) - External Temperature
± 0.5° C (± 0.9° F) 0° to 70° C (32° to 158° F) or ± 0.8° C (± 1.44° F) -40° to 105° C (-40° to 221° F) - Thermistor
± 0.5° C (± 0.9° F) -30° to 70° C (-22° to 158° F) - Internal Temperature
± 0.6° C (± 1.08° F) 0° to 70° C (32° to 158° F) or ± 1.2° C (± 2.16° F) -30° to 90° C (-22° to 194° F) - Thermistor
± 2 to ± 4 % over the Range 0 to 100 % Relative Humidity - Internal & External Relative Humidity
± 3° C (± 5.4° F) at ± 0.5 % of Reading - CU10
Ambient Temperature Range
-30° to 70° C (-22° to 158° F)
Approvals & Certifications
Battery Life
Typically 6 Years at 10 Minute Sample Rate
Delay Time
10 minutes to 1-Year - Programmable Delay Period
Humidity
0 to 100 % Relative Humidity - Internal & External
Indication
8 Green LED - Logging Status
Red LED - Alarm Conditions
Input
1.9 Vdc -Logic 1
0.1-21 mA
Materials of Construction
ABS Plastic - Moulded from RoHS Compliant Material
Resolution
12-bits - Internal & External Temperature
16-bits - All Universal Inputs
8-bits - Internal & External Relative Humidity
Sample Rate
1 second to 24 Hours for All Channels
Sensor, Probe Type
B Thermocouple
J Thermocouple
K Thermocouple
N Thermocouple
RTD
R Thermocouple
S Thermocouple
T Thermocouple
Supply Voltage
0 to 1.1 Vdc (Over Voltage Protected to 24 Vdc)
0 to 11 Vdc (Over Voltage Protected to 24 Vdc)
-110 to 110 mV (Over Voltage Protected to 24 Vdc)
Temperature Range
100° to 1,760° C (212° to 3,200° F) - Thermocouple Typical R & S
-100° to 260° C (-148° to 500° F) - Narrow Measuring Mode, CU100
-100° to 457° C (-148° to 854° F) Wide Measuring Mode - Pt100 (JISC)
-180° to 1,300° C (-292° to 2,372° F) - Thermocouple Typical N
-200° to 1,200° C (-328° to 2,192° F) - Thermocouple Typical J
-200° to 1,370° C (-328° to 2,498° F) - Thermocouple Typical K
-200° to 260° C (-328° to 500° F) - Narrow Measuring Mode, CU10
-200° to 400° C (-328° to 752° F) - Thermocouple Typical T
-200° to 700° C (-328° to 1,292° F) Wide Measuring Mode - Pt100 (EN 60751)
-30° to 90° C (-22° to 194° F) - TH-002
-35° to 105° C (-31° to 221° F) - TH-003
-40° to 105° C (-40° to 221° F) - TH-001 & TH-004
-60° to 180° C (-76° to 356° F) - Ni100
700° to 1,820° C (1,292° to 3,308° F) - Thermocouple Typical B
-80° to 230° C (-112° to 446° F) - Ni120