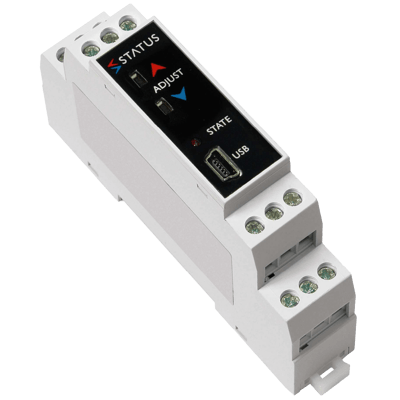 Images are representations only.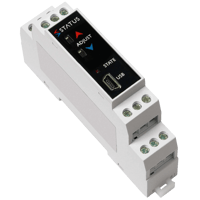 The SEM1605P is the next generation DIN rail mounted temperature transmitter from Status Instruments.

It has been designed to accept most common RTD temperature sensor inputs and provide the user with a standard two wire (4-20) mA output signal. All temperature ranges are linear to temperature.

Designed for ease of use, our latest USB interface is fitted for quick and easy configuration. Just connect a standard USB cable between the SEM1605P and your PC.

Our free configuration software, will guide you through any changes you wish to make.

To further help save time, the SEM1605P does not need to be wired to a power supply during the configuration process, it is powered via the USB interface from your PC.
Features
RTD Temperature Transmitter
PT100, Cu100, Cu53, Ni100, Ni120
(4 to 20) mA Two Wire Output
Calibration and Output Trim Without a PC
View Live Data On An Android Phone or Tablet
Specifications
Accuracy
(mA Output/2,000) or 5 µA whichever is greater
0.2° C (0.36° F) + (0.05 % of Reading)
RTD: ± 10° C (± 18° F)
Ambient Temperature Range
-30° to 70° C (-22° to 158° F)
Approvals & Certifications
CE
EMC: EN BS 61326 Industrial Emissions
IEC
Cable Length
0.008 feet (0.0025 Meter) - Max.
Communication
Baud Rate: 19,200 bit/sec
USB Port
Input
20 mA
4 mA
4-20 mA
660 μA - Excitation
Mounting
DIN Rail Mounted 6 Terminal
Output
± 0.2 μA/V - Loop Effect
3.8-21.5 mA - Range Extremes
4-20 mA, 2-Wire
Resistance
0 to 20 ohms - Lead Resistance
Sensor, Probe Type
Cu100
Cu53
Ni100
NI120
Pt100
RTD
Stability
± 0.02° C/°C - Thermal Stability
± 2 μA/°C - Thermal Stability
Storage Temperature
-40° to 85° C (-40° to 185° F)
Temperature Range
-200° to 850° C (-328° to 1,562° F)
Update Time
0.5 second
Warm-Up Time: 1 Minute