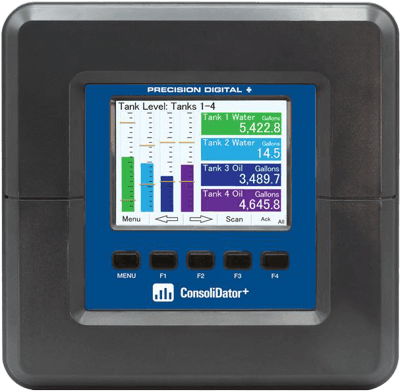 Images are representations only.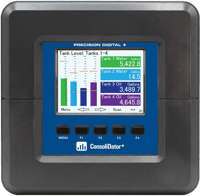 The ConsoliDator+ is a multivariable controller that is both easy to use and satisfies a wide variety of process display, alarm, and control applications.

It accepts 4-20 mA inputs, flow meter pulse inputs, digital inputs, and Modbus inputs and displays them in both numeric and bargraph format on a large, 5.7" color display.

It can be equipped with multiple relays with user-definable actions, 4-20 mA outputs, digital outputs, Modbus RTU & ASCII, Modbus Enron, and Ethernet Modbus TCP/IP protocol communication.

Additionally, the controller is equipped with up to 32 timers that can be used to control many processes or events.

The ConsoliDator+ takes full advantage of its color display by allowing the user to customize screen colors for bargraphs, alarm conditions, and input channels.

All this functionality is easily programmed using free software or via the front panel pushbuttons.

Choose the model that best suits your application, from monitoring only to fully loaded controllers with an extensive combination of inputs, outputs and communication protocols.

The standard product offering is listed in the ordering guide and other models are available for special order.

The Add-On features expand the functionality of the ConsoliDator+, see the PD9000 manual for details.
Features
NEMA 4X Panel Mount Multivariable Controller
Convenient Display, Control, & Alarm of Multiple 4-20 mA, Pulse, & Modbus Inputs
Numeric & Bargraph Color Display: 320 x 240 pixels - 5.7" / 145 mm
Sunlight Readable Display, White Backlight
Isolated 24 VDC Transmitter Supplies 200 mA / Analog Input; 1,600 mA Max
99 Channels, 32 Totalizers, 32 Timers, & 199 Modbus Inputs
64 High & Low Alarms, Combine Multiple Alarms Into Logic AND & OR Alarms
Simulation & Manual Control Modes for Testing and Setup
Modular Design for Inputs & Outputs Flexibility
Up to 28 4-20 mA Isolated Inputs or Pulse Inputs
Up to 25 10 Amp Form C Relays with Eight Analog or Pulse Inputs
Up to 25 Isolated 4-20 mA Outputs with Eight Analog or Pulse Inputs
Operating Temperature Range: -40 to 60°C / -40 to 140°F
Pulse, Analog, & Modbus Input Flow Rate / Total / Grand Total Capability
50-Point Linearization, Square Root, and Exponent for Open Channel Flow
Round Horizontal Tank Volume Calculation; Just Enter Diameter & Length
Open Channel Flow Math Formulas for Weirs & Flumes
Multi-Pump Alternation Control or On / Off Control with Random Varying Set Point
Programmable Displays, Function Keys & Digital Inputs
Math Functions: Sum, Diff, Average, Multiply, Divide, % Efficiency, & More
Modbus Client: Master & Snooper / Server with 99 Programmable Outputs
Direct Modbus PV Inputs - Snooper / Server Mode
Modbus Spoofer Feature to Replace Servers Removed from Network
RS-485 Serial Communication with Modbus RTU / ASCII & Ethernet TCP/IP
USB Data Logger Feature: Up to 8 Log Files with up to 12 Parameters Each
Field Selectable Input Power: 85-264 VAC or 24 VDC
20 Screens with up to Eight PVs Each
Automatic or Manual Scanning
Free ConsoliDator+ Configuration Software
NEMA 4 & 4X Field Mount Enclosures Available
3-Year Warranty
Specifications
Product Type
ConsoliDator+ Multivariable Controller