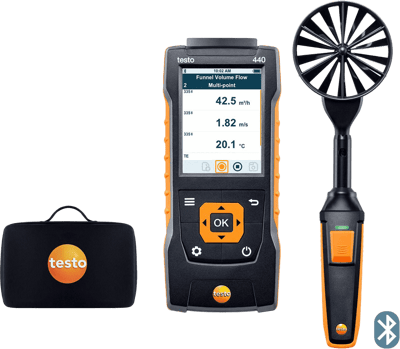 Images are representations only.
Testo 440 - Vane Kit with Bluetooth (Ø 3.9")
Brand:
Testo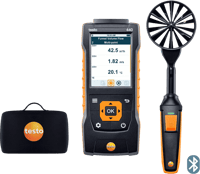 This Testo 440 kit is great for carrying out measurements at air outlets.

The Testo 440 air velocity and IAQ measuring instrument and its vane probe (Ø 3.9") with temperature sensor can all be safely stored in the included case.
Features
A measuring instrument for all climate-related parameters
Intuitive: clearly structured measurement menu for volume flow and determination of air velocity in ventilation ducts
Precise: combine the vane probe with Bluetooth with the telescope for ceiling outlets or the funnel set for plate outlets (please order separately) as required
Extendible with a wide range of probes
Wireless measurement with Bluetooth probes
USB interface for exporting measurement reports as CSV files
Specifications
Delivery Scope
Testo 440 Air Velocity and IAQ Measuring Instrument, 3 AA Batteries, USB Cable, and Calibration Protocol (0560 4401)
Basic Case for Testo 440 and 1 Probe
Vane probe (Ø 3.9") with Bluetooth, including temperature sensor (consisting of 3.9" vane probe head, handle adapter, and Bluetooth handle), bracket for testovent measurement funnel, 4 AA batteries, and calibration protocol (0635 9431)
Temperature - NTC
Measuring Range: -40.0°F to 302.0°F / -40°C to +150°C
Accuracy: ±0.7°F (-40°F to -13.2°F) / ±0.4°C (-40°C to -25.1°C) | ±0.5°F (-13°F to 166.8°F) / ±0.3°C (-25°C to +74.9°C) | ±0.7°F (167°F to 211.8°F) / ±0.4°C (+75°C to +99.9°C) | ±0.5 % of mv (Remaining Range)
Resolution: 0°F / 0.1°C
Temperature - Type K TC
Measuring Range: -328.0°F to 2498.0°F / -200°C to +1370°C
Accuracy: ±(0.5°F + 0.3 % of mv) / ±(0.3°C + 0.3 % of mv)
Resolution: 0.1°F / 0.1°C
Weight
8.8 oz. / 250 g
12.7 oz. / 360 g
Dimensions
6.1 x 2.6 x 1.3 in. / 154 x 65 x 32 mm
14.8 x 4.1 x 1.8 in. / 375 x 105 x 46 mm
Operating Temperature
-4.0°F to 122.0°F / -20°C to +50°C
23°F to 122.0°F / -5°C to +50°C
Connectable Probes
1 x Digital Probe with Cable or 1 x Temperature NTC TUC
1 x Digital Bluetooth Probe or Testo Smart Probe
1 x Temperature TC Type K
Battery Type
3 x AA 1.5 V
4 x AA batteries
Battery Life
12 h (Typically Vane Measurement)
60 h
Storage Temperature
-4.0°F to 122.0°F / -20°C to +50°C
-4.0°F to 140.0°F / -20°C to +60°C
Temperature - NTC (Vane Probe)
Measuring Range: -4°F to 158°F / -20°C to +70°C
Accuracy: ±0.9°F / ±0.5°C
Resolution: 0.1°F / 0.1°C
Velocity / Volume Flow
Measuring Range: 59.1 to 6890 fpm / 0.3 to 35 m/s
Accuracy: ±(7 fpm + 5% of mv) (59 to 6890 fpm) / ±(0.1 m/s + 1.5 % of mv) (0.3 to 20 m/s) | ±(0.04 m/s + 5 % of mv) (0.3 to 35 m/s) / ±(0.2 m/s + 1.5 % of mv) (20.01 to 35 m/s)
Resolution: 1 fpm / 0.01 m/s / 0.01 m/s
Convenience and Maximum Flexibility for Duct and Outlet Measurements
Long-term Monitoring of Indoor Air Quality
Turbulence Measurement in Accordance with EN ISO 7730 / ASHRAE 55
Range of Probes for Cleanrooms and Laboratories