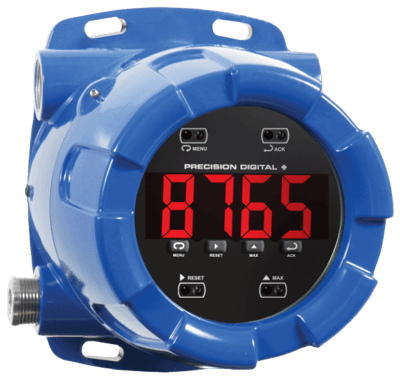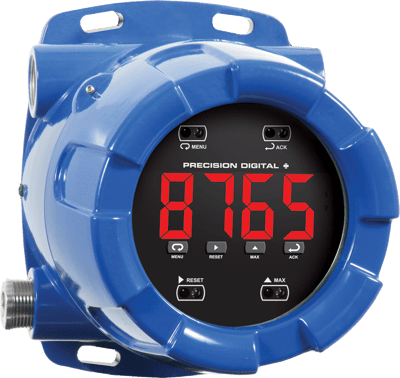 Images are representations only.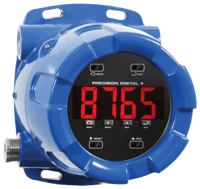 The PD8-765 ProtEX-MAX is an explosion-proof version of the popular Trident X2 process and temperature meter. It can satisfy a wide variety of process applications.

The PD8-765 can be field programmed to accept process voltage (0-5 V, 1-5 V, etc) and current (4-20 mA) inputs, 100 Ohm RTDs, and the four most common thermocouples.

It is housed in an IP68 NEMA 4X rated explosion-proof die cast aluminum enclosure and is a fully approved product carrying FM, CSA, ATEX, and IECEx approvals.

There are two power options for the ProtEX-MAX: 85 to 265 VAC or 12-36 VDC and the AC powered version can provide 24 VDC to power the transmitter if needed.

Programming and setup can be performed with the four SafeTouch™ through- glass buttons, free MeterView™ software, or using the Copy function.
Features
Modern, Sleek and Practical Enclosure
Display Mountable at 0°, 90°, 180°, & 270° Degrees
Explosion-proof, IP68, NEMA 4X Enclosure
Large 1.2" 4-Digit Display
SafeTouch® Through-Glass Button Programming
Linear or Square Root with Low-Flow Cutoff
Operating temperature range of between -40°C and 65°C
Max/Min Display
Universal Power Supply 85-265 Vac
12-36 Vdc/12-24 Vac Power Option 
2 Relays + 4-20 mA Output Option
24 Vdc @ 200 mA Transmitter Power Supply Options
USB, RS-232, & RS-485 Serial Communication Options
Free Modbus® RTU & LabVIEW™ Driver
Free MeterView® Software - Configuration & Data Acquisition
Sunlight Readable Display
Specifications
Approvals & Certifications
ATEX, II 2 GD Ex d IIC T* Gb Ex Tb IIIC T90° C Db
CSA Class I, Division 1, Groups B, C, D, Class II, Division 1, Groups E, F, G Class III, Division 1, Class I, Zone 1 Ex d IIC Zone 21 Ex Tb IIIC T90° C
FM Class I, Division 1, Groups B, C, D Class II, Division 1, Groups E, F, G Class III, Division 1, T5/T6 Class I, Zone 1, AEx d, IIC Gb T5/T6 Zone 21, AEx Tb IIIC T90° C
IEC Ex d IIC T* Gb Ex Tb IIIC T90° C Db
Environmental Protection
IP66
IP68
NEMA 4X
NEMA 7
NEMA 9
Operating Temperature
-40° to 65° C (-40° to 150° F)