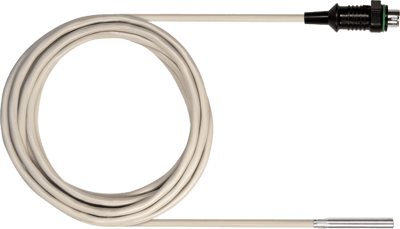 Images are representations only.
Temperature Probe with Aluminum Sleeve for Measurements in Liquids, Pastes and Air
Brand:
Testo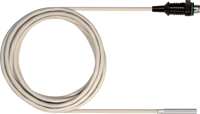 The testo temperature probe is suitable for air temperature measurements and also for temperature measurements in liquids and pastes.

Because of the NTC sensor element, the probe provides precise temperature measurements with an accuracy of up to ±0.2 °C/F.

The temperature probe features a 2.4 m cable. With this probe you are ideally equipped for measuring temperatures which are not in close proximity to the testo Saveris 2-T2 Wi-Fi data logger.

The temperature probe is rated protection class IP 65 (waterproof).

The Perfect Probe for any Application

If you don't see an appropriate temperature probe for your application, please contact us directly. We have a large range of standard and custom temperature probes.

*For air temperature measurements, the response time is about 40 – 60 times higher than the indicated value measured in water.

If you should require a slow-response temperature probe to measure air temperature, this probe is particularly appropriate because it does not take brief temperature peaks into account at all, or only to a very small degree, when measuring temperature.

For example, if you are planning to use this probe to measure air temperature in the refrigerator, briefly opening the refrigerator door would not take into account the temperature fluctuation which results from mixing the warm room temperature with the refrigerator temperature.

If you need an air temperature probe with a fast response time, your best choice would be the exceptionally fast temperature probe 0602 0493 which has a large measuring range.

This temperature probe can be connected to the testo Saveris 2-T3 Wi-Fi data logger.
Features
For connection to the testo Saveris 2-T2 Wi-Fi data logger
Thermistor NTC temperature probe with 2.4 m cable
Measuring range: -22°F to 194°F (-30°C to +90°C)
Specifications
Delivery Scope
1 x NTC Temperature Probe 0628 7503, for the Testo Saveris 2-T2 Wi-Fi Data Logger
Temperature - NTC
Measuring Range: -22° F to 194° F / -30° C to +90° C
Accuracy: ± 0.4° F (32° F to 158° F) / ± 0.2° C (0° C to +70° C) | ± 0.9° F (Remaining Range) / ± 0.5° C (Remaining Range)
Reaction Time: t90 = 12 sec