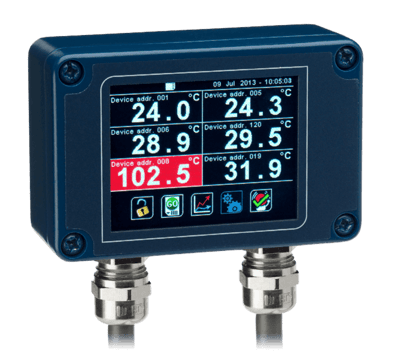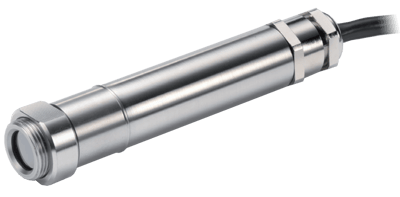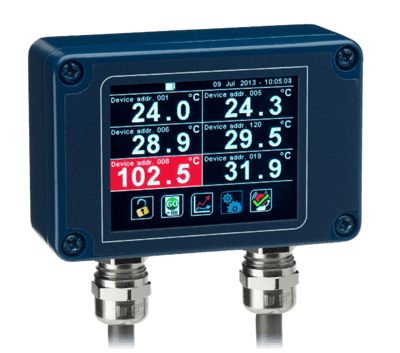 Images are representations only.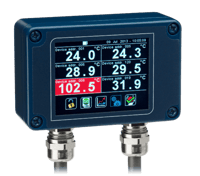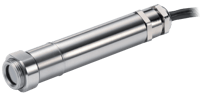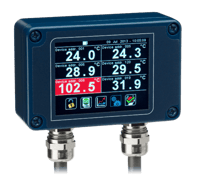 The Calex Compact Series is a range of high quality, low cost non-contact sensors that measure the temperature of inaccessible or moving objects and materials.

They measure temperatures from -20° to 500° C, accurately and consistently, with an outstanding response time of 240 Milliseconds.

All models conform to industrial EMC standards.

The PyroBus is a networkable, fully configurable sensor with RS485 Modbus RTU communications.
Features
Up to 247 sensors may be connected to a single network
Adjustable emissivity setting for use on a wide range of materials
Averaging function to smooth the temperature output
Peak and valley hold processing for measuring individual objects on a conveyor
Reflected energy compensation for accurately measuring the temperature of objects in ovens or chillers, from outside
Maximum, minimum and instantaneous temperature readings
Optional 6-channel touch screen terminal for local display, configuration and data logging
Connect sensors and 6-channel terminals directly to an existing RS485 Modbus system
Specifications
Accuracy
± 1 % of Reading or ± 1° C ( ± 1.8° F) whichever is greater
Ambient Temperature Range
0° to 70° C (32° to 158° F)
Approvals & Certifications
Communication
8-bit Data, No Parity
Baud Rate: 9,600 bit/sec
Modbus RTU
RS-485
Stop Bit: 1-bit
Display
6-Channel Touch Screen for Temperature Display
Humidity
95 % Relative Humidity, Non-Condensing, Maximum
Mounting
M16 × 1 mm Pitch - Thread Mounting
Repeatability
± 0.5 % of Reading or ± 0.5° C ( ± 0.9° F) whichever is greater
Response Time
240 milliseconds (90 % Response)
Supply Voltage
12 Vdc
13 Vdc - Maximum
6 Vdc - Minimum Sensor Voltage
Temperature Range
-20° to 500° C (-4° to 932° F)