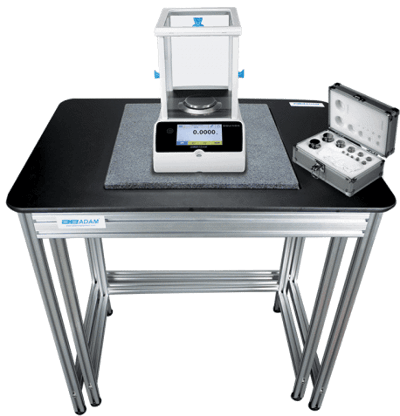 Images are representations only.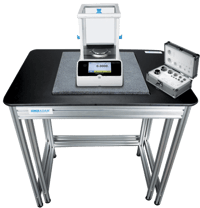 Ergonomically styled, the AVT anti vibration table offers a solid, stable surface developed specifically to help decrease vibration during measurement. When used in tandem with a weighing balance, the table allows the balance to perform with marked precision, despite air currents or movements that might cause readings to fluctuate.

The AVT is easy to assemble, with all necessary tools supplied. The internal working surface measures 15.7" x 17.7" / 400 x 450 mm, allowing ample space for a balance. Its large, scratch-resistant dark granite slab sits on shock-absorbing rubber mounts, while levelling feet accommodate uneven surfaces. The balance fits in the middle of the AVT's granite surface, stabilizing the base and enabling greater precision.

AVT anti-vibration tables are recommended for use alongside our Nimbus, Solis and Equinox range of analytical balances. For a full range of balances that can be used with the anti-vibration table, please see the analytical balance section on our website. If you require more information about the AVT anti-vibration table, please contact us.
Features
Two-table construction keeps the granite slab in the middle and reduces interference
Large work surface of 15.7" x 17.7" / 400 x 450 mm
Scratch-resistant granite slab
Resin laminate table top provides ample work surface for resting samples or documents
Resistant coating to help protect the table from acid and alkaline spillages
Lightweight tubular aluminum frame
Adjustable levelling feet for uneven surfaces
Polished finish is easy to clean
Total weight of table and work surface 121 lb / 55 kg
Specifications
Overall Dimensions
31.5" × 23.6" × 30.8" / 800 × 600 × 782 mm (W × D × H)
Working Surface
15.7" × 17.7" / 400 × 450 mm