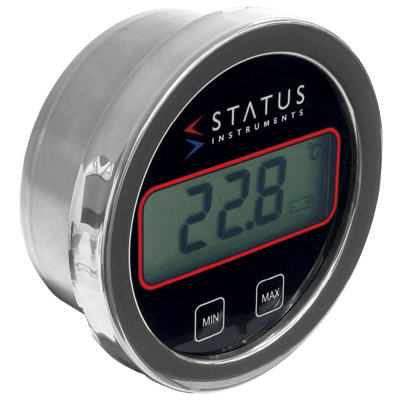 Images are representations only.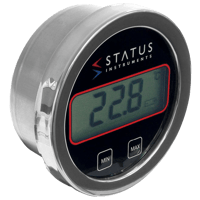 The DM660 series of battery powered indicators accept an RTD input and displays the sensor temperature on a 4 digit LCD display.

The unit is microprocessor based and provides high accuracy performance over a wide ambient operating temperature. Maximum/Minimum temperature buttons are provided on the front panel.

Different sensor types are selected using a rotary switch on the rear of the product.
Features
Battery powered
Large 4 digit LCD display
Pt 100, Ni 200, Cu53, Cu100 sensors
Push button maximum/minimum temperature
100 mm stainless steel dial gauge housing
Sealed to IP65
4 models matching criteria
Specifications
Accuracy
± 0.2° C (± 0.36° F) ± 0.1 % of Reading at 20° C (68° F) - Pt100, Ni100, Ni120, Cu100
± 0.4° C (± 0.72° F) ± 0.1 % of Reading at 20° C (68° F) - Cu53
Alarm
Battery Low' Alarm Via Display
Ambient Temperature Range
-10° to 50° C (14° to 122° F)
Approvals & Certifications
CE
EMC to BS EN 61326: 2006
Mounting
Panel Mount
Rear Entry
Side Entry
Wall Mounted
Operating Temperature - Sensor
-100° to 800° C (-148° to 1,472° F)
Power Requirement
3.6 V Lithium AA Battery 2.4 Ahr
Sensor, Probe Type
Cu100
Cu53
Ni100
NI120
Pt100
RTD
Stability
Temperature Stability: ± 0.015 % of Full Range/°C
Update Time
Display Update: 2 seconds