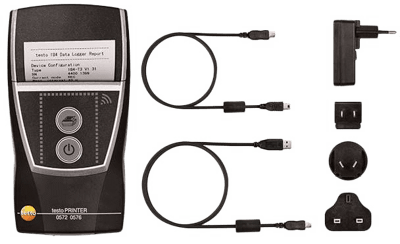 Images are representations only.
Mobile Printer for Data Loggers - NFC Thermal Printer for Testo 184 Loggers
Brand:
Testo
NFC printer designed for fast confirmation of shipping conditions of received shipments at the truck or receiving dock location.

The thermal print shows temperature / humidity / G-shock points (depending on the logger type) plus alarm notifications, if any.

The NFC testo thermal printer for receipts of shipments, designed for mobile applications and powered with rechargeable Li-ion battery.

To print, press the print button and place the logger in the marked area on the printer top.

Testo 175 and 176 logger series connect with enclosed USB cable and print data with the push of the Print button.

The 184 loggers will print shipping review data set since they have they contain and internal graph PDF report. The 175 and 176 loggers will print graph and data.

Use of the mobile printer for Testo data loggers is recommended if you require on-site proof of readings.

Its compact, handy size means that you can easily take the printer along to the measuring location.
Features
NFC printer for testo 184 loggers, special USB cable for 175 and 176 loggers
Battery operated for mobile operation, Li-ion rechargeable battery
Prints graphs and data with 175 and 176 loggers
NFC (Near Field Communication) thermal printer for testo 184 loggers.
USB printing with testo 175 and 176 loggers
Specifications
Delivery Scope
1 × Mobile Printer for Data Loggers with Rechargeable Battery, Micro USB Charging Cable, Micro/Mini USB Connection Cable and Instruction Manual
Storage Temperature
-4° F to 122° F / -20° C to +50° C
Weight
25.2 oz. (including rechargeable battery pack, paper roll, mains unit) / 715 g (including rechargeable battery pack, paper roll, mains unit)
Dimensions
5.9 × 3.1 × 1.6 in. / 150 × 80 × 41 mm
Operating Temperature
32° F to 122° F / 0° C to +50° C
Battery Type
Lithium-Ion Rechargeable Battery Pack, 2600 mAh, 3.7 V