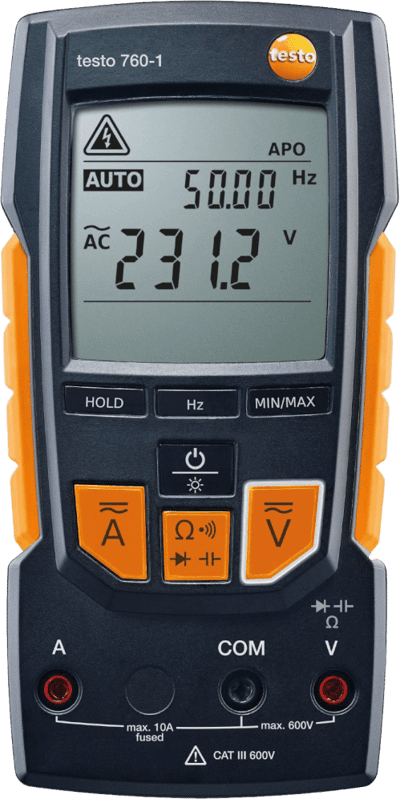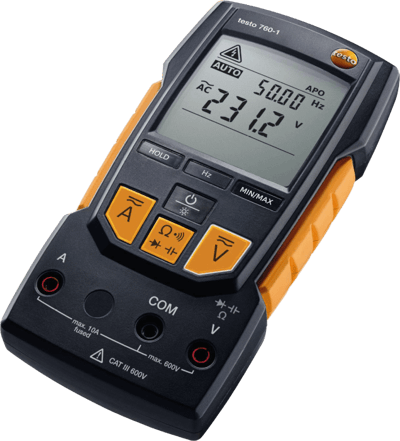 Images are representations only.
Testo 760-2 - Digital Multimeter
Brand:
Testo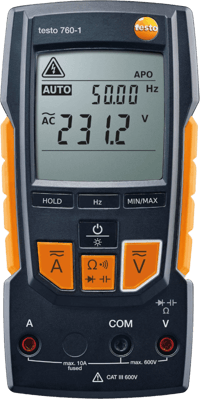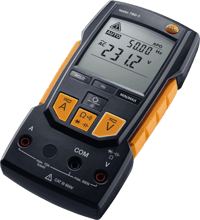 The Testo 760-2 digital multimeter is the allrounder for all important electrical measuring tasks.

Thanks to the automatic detection of measurement parameters, it offers the greatest possible reliability for every application.

You can also measure current in the µA range and determine the true root mean square using this digital multimeter.

The Testo 760-2 digital handheld multimeter means you can measure electrical parameters more easily and reliably than ever before.

In contrast to other multimeters, the Testo 760-2 automatically detects the appropriate measurement parameter via the socket assignment – and therefore rules out any dangerous incorrect settings.

It is not operated conventionally by a dial, but with illuminated function keys.

This means you can easily control the measuring instrument with just one hand. The large, illuminated display shows the readings clearly.

The Testo 760-2 digital multimeter has the most important functions for measuring current, voltage and resistance.

The measurement of current strength is also possible in the µA range thanks to the larger measuring range.

And the integrated low-pass filter achieves more accurate measurement results on frequency converter controlled motors.

Temperatures can also be measured with this multimeter in addition to electrical parameters.
Features
Easy, reliable work thanks to automatic measurement parameter detection
Current measurement in the µA range
True root mean square measurement - TRMS
Low-pass filter for accurate measurement results on frequency converter controlled motors
Specifications
Delivery Scope
Testo 760-2 TRMS Multimeter, including Batteries, 1 Set of Measuring Cables (0590 0010), 1 x Adapter for Thermocouples Type K and Instruction Manual
Temperature - TC Type K (NiCr-Ni)
Measuring Range: -20°C to +500°C
Accuracy: ±1°C (0°C to +100°C)
Resolution: 0.2°C
DC Voltage
Measuring Range: 0.1 to 600 V
Resolution: max. 0.1 mV
Accuracy: ± (0.8 % of mv + 3 Digit)
AC Voltage
Measuring Range: 0.1 mV to 600 V
Resolution: max. 0.1 mV
Accuracy: ± (1.0 % of mv + 3 Digit)
DC Current
Measuring Range: 0.1 µA to 10 A
Resolution: max. 0.1 mA
Accuracy: ± (1.5 % of mv + 5 Digit)
AC Current
Measuring Range: 0.1 µA to 10 A
Resolution: max. 0.1 µA
Accuracy: ± (1.5 % of mv + 5 Digit)
Resistance
Resolution: max. 0.1 Ohm
Measuring Range: 0.01 to 60.00 MOhm
Accuracy: ± (1.5 % of mv + 3 Digit)
Capacitance
Resolution: max. 0.1 nF
Measuring Range: 0.001 nF to 30,000 μF
Accuracy: ± (1.5 % of mv + 5 Digit)
Frequency
Resolution: max. 0.1 Hz
Measuring Range: 0.001 Hz to 30.00 MHz
Accuracy: ± (0.1 % of mv + 1 Digit)
Operating Temperature
14.0°F to 122.0°F / -10°C to +50°C
Standards
EN 61326-1; EN 61010-2-033; EN 61140
Display Type
LCD (Liquid Crystal Display)
Storage Temperature
5.0°F to 140.0°F / -15°C to +60°C
Overvoltage Category
CAT III 1000V; CAT IV 600V
Instrument Measurement Functions
Diode Test: Yes
Current Probe Measurement with Adapter: Yes
Temperature Measurement with Adapter: Yes
True RMS: Yes
Low-Pass Filter: Yes
Duty Cycle Measurement: Yes
μA Current Measuring Range: Yes
Continuity Testing: Yes
Display Lighting: Yes
Hold: Yes
Min/Max: Yes
Display (Counts): 4,000
Automatic Measurement Parameter Detection: Yes
Ideal for Measuring all Important Electrical Parameters


Automatic Detection and Selection of Measurement Parameters
Current Measurement in the µA range
True Root Mean Square (TRMS) Measurement
Low Pass Filter
Operation via Function Keys
Large Illuminated Display
Temperature Adapter

Overview of Applications


Testing Voltage Supply in Live Wires
Current Measurement in the Lower Measuring Range
Testing Voltage Supply for Frequency-Controlled Motors
Measuring the Ionization Flow of Heating Systems
Continuity Tests on Switching Components
Resistance Measurement of Sensors or Motor Windings
Easy Temperature Checking