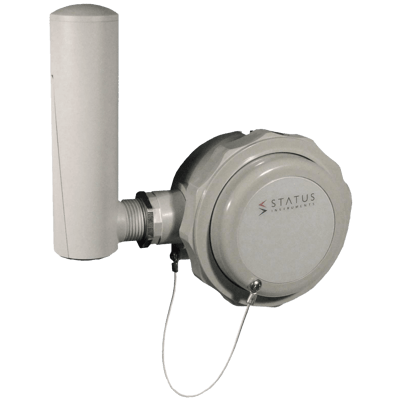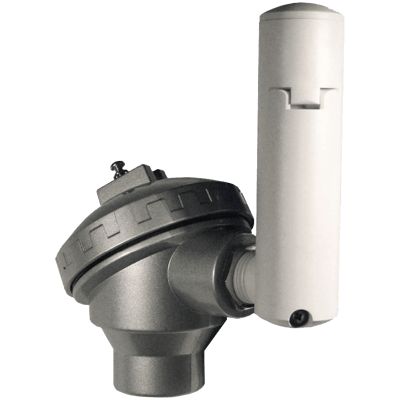 Images are representations only.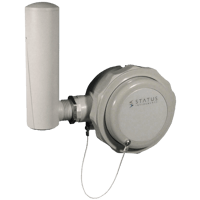 The WTX700 series in head temperature transmitter is a new generation of wireless temperature measurement solutions from Status Instruments.

It has been designed to accept most common temperature sensors including those from RTD and thermocouple sensors as well as slidewire and mV signals.

The measured value is transmitted to the DIN Rail mounted base station (WRX900), this can accept signals from up to 16 WTX700 transmitters.
Features
Accepts Signals From RTD, Thermocouple, Slidewire and mV Sensors
300m Line Of Sight Range
868.4MHz ISM Band for European Use
Battery Powered
Surface or Sensor Mounting Options
Specifications
Accuracy
± 0.1 % - Thermocouple [Fe-CuNi (L, J), Cu-CuNi (U, T), NiCr-Ni K, NiCr-CuNi E, NiCrSi-NiSi N, Chromel-Copel, Chromel-Alumel]
± 0.1° C (± 0.2° F) - RTD Pt100, Pt500, Pt1000
± 0.15 % - Thermocouple Pt10Rh-Pt S, Pt13Rh-Pt R, Pt30Rh-Pt6Rh B, W5Re-W26Re C, W3Re-W26Re, PLII (Platinel II)
± 0.2 % - Thermocouple MoRe5-MoRe41
± 0.2° C (± 0.36° F) - RTD
± 0.25 % - Thermocouple W3Re-W25Re D
± 1° C (± 1.8° F) - Cold Junction (Pt1000 RTD)
Ambient Temperature Range
-30° to 70° C (-22° to 158° F) in SCH4 - Electronics
-30° to 85° C (-22° to 185° F) in SCH11 - Electronics
Approvals & Certifications
Antenna-Battery Case - Flammability Class: UL 94 HB or UL 94 V-0
Transmitter Housing - Flammability Class: UL 94 V2
Cable Entry
M16 - Sensor Cable Entry
M24 - Process Entry
Electrical Connectors
2-Pole Connector RM 2.54 mm - for Battery Connection
3-Pole Connection Terminal RM 5 mm - for Probe
4-Pin Connector
M20 x 1.5
SMB Inlet - for Antenna
Frequency
868.4 MHz, ISM Band - Transmission Frequency
Materials of Construction
Connecting Head: ABS Plastic SCH4
Connecting Head: Alloy SCH11
Polycarbonate - Transmitter
Polyetherimide - Antenna Battery
Measurement Accuracy
± 0.1 % - Voltage Input
± 10 ohms - Potentiometer Input
± 4 ohms - Potentiometer Input
± 400 milliohms - Potentiometer Input
Resistance
< 400 to ≤ 10,000 ohms - Potentiometer Input
≤ 22 ohms - Sensor Lead Resistance for 2-Wire Circuit
11 ohms Per Line - Sensor Lead Resistance for 3-Wire Circuit
RTD Type
Cu100
Cu50
Ni100
Ni1000
Ni500
Potentiometer
Pt100
Pt1000
Pt50
Pt500
Sensor, Probe Type
B Thermocouple (DIN EN 60584)
C Thermocouple
D Thermocouple
E Thermocouple (DIN EN 60584)
J Thermocouple (DIN EN 60584)
K Thermocouple (DIN EN 60584)
L Thermocouple (DIN 43710)
N Thermocouple (DIN EN 60584)
RTD
R Thermocouple (DIN EN 60584)
S Thermocouple (DIN EN 60584)
T Thermocouple (DIN EN 60584)
U Thermocouple (DIN 43710)
Shock
10 G (6 milliseconds) as Per DIN IEC 68-2.29
Storage Temperature
-40° to 85° C (-40° to 185° F)
Supply Voltage
3.6 V, 2.2 Ah Lithium Battery
Temperature Coefficient
≤ ± 0.005 %/°C - for Thermocouple, RTD Temperature Probe & Voltage
≤ ± 0.01 %/°C - for Potentiometer
Temperature Range
-200° to 600° C (-325° to 1,100° F) - for RTD Input
-270° to 2,495° C (-454° to 4,523° F) - for Thermocouples
Transmission Value
10 dBm - Transmission Capacity