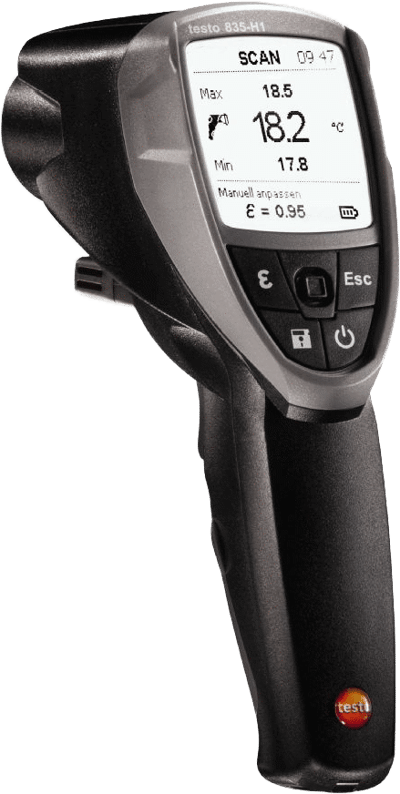 Images are representations only.
Testo 835-H1 - Infrared Thermometer and Moisture Meter
Brand:
Testo
Non-contact temperature and moisture measurements using only one device.

The Testo 835-H1 infrared thermometer measures the air temperature, and also has an integrated moisture sensor for measuring moisture.

For high temperature applications, see the Testo 835-T2 (0560-8352).

Perform temperature monitoring and checks on air conditioning and ventilation systems, inspect industrial systems and rotating equipment, and ensure constantly high levels of quality in production processes.

The Testo 835 is ideal for a wide range of industrial and commercial applications.

What the Testo 835-H1 Infrared Thermometer and Moisture Meter can do

Measure surface temperature / RH and check dew point / surface moisture
Timely detection of mold in buildings
Carry out quick and safe measurements on small / moving / hard to reach objects
State of the Art Technology and Easy Handling

4-point laser shows exact measuring zone, effectively preventing incorrect measurements
50:1 optics for excellent surface temperature measurements, even over greater distances (distance 16 ft = 4 in. measurement spot)
Adjustable degree of emission (for measuring a wide variety of different surfaces)
Connectivity for temperature sensors for additional contact measurements (for materials with low degrees of emission). Simply connect optional temperature sensor
Easy to use, easy to follow menu guide, thanks to icons and joystick
Generate measuring points and save up to 200 measurements
Define individual alarm thresholds, acoustic and optical alarm
Display min/max values
Backlit display
Features
Measures temperature / moisture / dew point
Calculates surface moisture content
Easy to follow menu guide, memory of up to 200 readings, data analysis with free to download software
4-point laser and 50:1 optics for precise measurements, even over long distances
Specifications
Delivery Scope
Testo 835-H1 Infrared Thermometer and Moisture Meter, 4-Point Laser Marking, Measuring Data Management, Moisture Module, Batteries, and Calibration Protocol
Dimensions
8 x 7 x 2 in. / 193 x 166 x 63 mm
Operating Temperature
-4° F to 122° F / -20° C to +50° C
Auto-Off Backlight
30 sec*
*Disabled for Continuous Measurement and USB Connection
Auto-Off Instrument
120 sec*
*Disabled for Continuous Measurement and USB Connection
Battery Type
3 AA Batteries (or USB Operating with PC-Software)
Battery Life
25 h (Typical 25° C without Laser and Backlight)
10 h (Typical 25° C without Backlight)
Storage Temperature
-22° F to 122.0° F / -30° C to +50° C
Temperature - Type K TC
Measuring Range: -58.0° F to 1112.0° F / -50° C to +600° C
Accuracy: ± 0.9° F + 0.5 % of mv / ± 0.5° C + 0.5 % of mv
Resolution: 0.1° F / 0.1° C
Temperature - Infrared
Measuring Range: -22° F to 1112° F / -30° C to +600° C
Accuracy: ± 4.5° F (-22.0° F to -4.2° F) / ± 2.5° C (-30.0° C to -20.1° C) | ± 2.7° F (-4.0° F to 31.8° F) / ± 1.5° C (-20.0° C to -0.1° C) | ± 1.8° F (32.0° F to +211.8° F) / ± 1.0° C (0.0° C to +99.9° C) | ± 1 % of mv (Remaining Range)
Infrared Resolution: 0.1° F / 0.1° C
Humidity - Capacitive
Measuring Range: 0 to 100 %RH
Accuracy: ± 2 %RH | ± 0.9° F / ± 0.5° C
Resolution: 0.1° F / 0.1° C | 0.1 %RH | 0.1° C td
Location of Thermal Bridges and Mold or Corrosion Formation