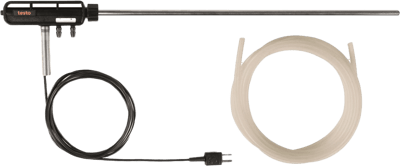 Images are representations only.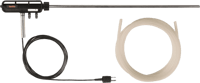 Straight Pitot Tube 360 mm

In the event of dust-laden flow in ventilation ducts or process air and higher flow velocities, we recommend using a Pitot tube.

To measure flow velocities in ventilation ducts or process air, you can upgrade your measuring instrument by adding a Pitot tube.

Pitot tubes provide the optimum conditions, especially for higher flow velocities and dust-laden air.

This Pitot tube is 360 mm / 500 / 1000 mm long and features integrated temperature measurement.

Pitot Tube - Stainless Steel

This Stainless Steel Pitot Tube can be used to measure flow velocity.

Match this pitot tube with a connection hose and pressure probe to allow for flow velocity measurement.

Pitot tube, Stainless Steel, 500 mm / 1000 mm long, measures velocity with temperature, for pressure probes 0638 1345/..1445/..1545.
Features
Straight Pitot Tube 360 / 500 / 1000 mm


For measuring flow velocities, e.g. in ventilation ducts or process air
Length: 360 mm / 500 mm
Measuring range: 1 to 30 m/s
Operating temperature: 0°C to +600°C

Pitot Tube - Stainless Steel (19.7 in., 13.8 in., 3.3 ft)


For measuring flow velocity
Ideal for high flow velocities and heavily contaminated flow
Specifications
Delivery Scope
1 x Stainless Steel Pitot Tube, Length (500 mm, 350 mm, 1000 mm), Ø 7 mm
Temperature - TC Type K (NiCr-Ni)
Measuring Range: 32° F to 1112° F / 0° C to +600° C
Temperature - Type K TC
Measuring Range: 32° F to 1112° F / 0° C to +600° C
Measuring Range
+197 to +5906 fpm / +1 to +30 m/s
+197 to +19685 fpm / +1 to +100 m/s
Operating Temperature
32.0° F to 1112.0° F / 0.0° C to +600° C
Length
360 mm
19.685 in. / 500 mm
39.37 in. / 1,000 mm
Weight
4.45 oz. / 126 g
3.32 oz. / 94 g
8.29 oz. / 235 g