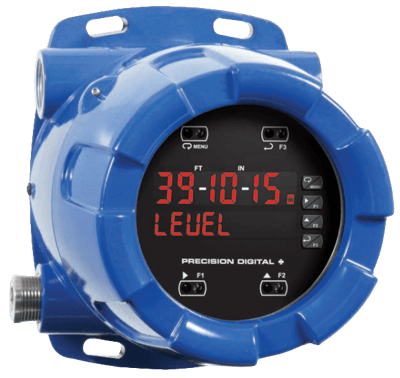 Images are representations only.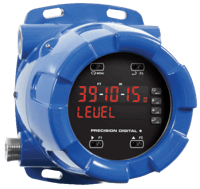 The ProtEX-MAX™ PD8-6001 explosion-proof level indicator offers all the functionality of the ProVu PD6001 as a fully FM, CSA, ATEX, and IECEx approved explosion-proof product.

It is specifically designed to display level in feet & inches, instead of the usual decimal format.

The meter accepts a process current (4-20 mA) or process voltage (0-5V, 1-5V, etc.) signal and displays that signal on a dual-line display with convenient feet and inches designations on the upper line.

The PD8-6001 includes a 24 VDC power supply to drive the transmitter and can be equipped with four internal relays and a 4-20 mA output.

It can be programmed and operated without opening the housing by using the built-in SafeTouch® through-glass buttons or the RS485 serial communication port with free Modbus® protocol.
Features
Modern, Sleek and Practical Enclosure
Display Mountable at 0°, 90°, 180°, and 270° Degrees
Safetouch Through-glass Button Programming
Feet and Inches Display Ideal for Level Applications
Large Dual-line 6-digit Display, 0.60" and 0.46"
0-20 mA, 4-20 mA, 0-5 V, 1-5 V, and ±10 V inputs
Input Power Options Include 85 to 265 Vac or 12 to 24 Vdc
SunBright Display Standard
Isolated 24 Vdc at 25 mA Transmitter Power Supply
Signal Input Conditioning for Round Horizontal
Programmable Displays and Function Keys
32-Point or Exponential Linearization
Multi-pump Alternation Control
2 or 4 Relays + Isolated 4-20 mA Output Options
External 4-Relay & Digital I/O Expansion Modules
RS-232, and RS-485 Serial Communication Options
Modbus RTU Communication Protocol Standard - Slave
Onboard USB and MeterView Pro Programming Software
Specifications
Approvals & Certifications
ATEX II 2 GD Ex d IIC T* Gb Ex Tb IIIC T90° C Db IP68 Ta = -40° C to °C *T6 = -40° to 60° C *T5 = -40° to 65° C, Certificate Number: Sira 12-ATEX-1182
CSA Class I, Division 1, Groups B, C, D, Class II, Division 1, Groups E, F, G Class III, Division 1, Class I, Zone 1 Ex d IIC Zone 21 Ex Tb IIIC T90° C -40° C < Tamb. < +60° C, Temperature Code T6 -40° C < Tamb. < 65° C, Temperature Code T5 Enclosure Typica
FM Class I, Division 1, Groups B, C, D Class II, Division 1, Groups E, F, G Class III, Division 1, T5/T6 Class I, Zone 1, AEx d, IIC Gb T5/T6 Zone 21, AEx Tb IIIC T90° C, Ta -40° to 65° C T6 Ta = -40° to 60° C, T5 Ta = -40° to 65° C, Certificate Number: 3
IEC Ex d IIC T* Gb Ex Tb IIIC T90° C Db IP68 Ta = -40° C to * °C *T6 = -40° C to 60° C *T5 = -40° to 65° C, Certificate Number: IECEx SIR 12.0073
Environmental Protection
IP66
IP68
NEMA 4X
NEMA 7
NEMA 9
Display
Upper feet & inches display: 0.60" (15 mm) high with feet & inches Designations. Lower display: 0.46" (12 mm) high. Both are 6 Digits (-99999 to 999999), Red LEDs
Feet & Inches Display Range
0" 00" 0/16" to 99" 11" 15/16"
Display Assignment
The upper and Lower displays may be assigned to PV1, PV2, PCT (Percent), max/min, alternate max & min, Set Points, units (Lower display only), or Modbus Input.
Programming Methods
Four through-glass SafeTouch buttons, four mechanical buttons behind glass, digital inputs, PC and MeterView Pro Software, or Modbus registers.
F4 Digital Input Contacts
3.3 Vdc on Contact. Connect Normally Open Contacts across F4 to COM
F4 Digital Input Logic Levels
Noise Filter
Programmable from 2 to 199 (0 will disable filter)
Filter Bypass
Programmable from 0.1 to 99.9 % of Calibrated Span
Recalibration
Calibrated at the factory. Recalibration is recommended at Least every 12 months.
Maximum / Minimum Display
Max / min Readings Reached by the process are stored until reset by the user or until Power to the meter is turned off.
Password
Three Programmable passwords restrict modification of Programmed settings.
Non-Volatile Memory
All Programmed settings are stored in nonvolatile memory for a minimum of ten Years if Power is lost.
Input Power Options
85-265 Vac 50/60 Hz, 90-265 Vdc, 20 W max, or optional model with 12-24 Vdc ± 10 %, 15 W Maximum
Fuse
Required External Fuse: UL Recognized, 5 A max, Slow Blow, up to 6 metres may share one 5 A fuse.
Isolated Transmitter Power Supply
Terminals P+ & P-: 24 Vdc ± 10 %. Isolated from the Input at > 500 V. Jumper selectable for 24, 10, or 5 Vdc Supply (Internal jumper J4). All models transmitter Supply rated @ 25 mA Maximum
Normal Mode Rejection
Greater than 60 dB at 50/60 Hz
Isolation
4 kV Input/Output-to-Power Line, 500 V Input-to-Output or Output-to-P+ Supply
Overvoltage Category
Installation Overvoltage Category II: Local level with smaller transient overvoltages than Installation Overvoltage Category III.
Environmental
T6 Class Operating Temperature Range Ta = -40 to 60° C
T5 Class Operating Temperature Range Ta = -40 to 65° C
Maximum Power Dissipation
Maximum Power dissipation limited to 15.1 W. See PD8 instruction manual for additional details.
Connections
Removable Screw terminal blocks accept 12 to 22 AWG wire, RJ45 for external Relays, Digital I/O, and Serial communication Adapters
Enclosure
1/8 DIN, High Impact Plastic, UL 94V-0, color: Black
Mounting
1/8 DIN Panel cutout required: 3.622" × 1.772" (92 mm × 45 mm). Two panel mounting bracket assemblies are provided
Tightening Torque
Screw terminal Connectors: 5 Lb-in (0.56 Nm)
Dimensions
4.68" × 2.45" × 5.64" (119 mm × 62 mm × 143 mm) (W × H × D)
UL File Number
UL & C-UL Listed. E160849, 508 Industrial Control Equipment.
USB Connection
Compatibility: USB 2.0 Standard, Compliant
Connector Type: Micro-B receptacle
Cable: USB A Male to Micro-B Cable
Driver: Windows® 98/SE, ME, 2000, Server 2003/2008, XP 32/64-Bit, Vista 32/64-Bit, Windows® 7 32/64-Bit, Windows® 10 32/64-Bit
Power: USB Port