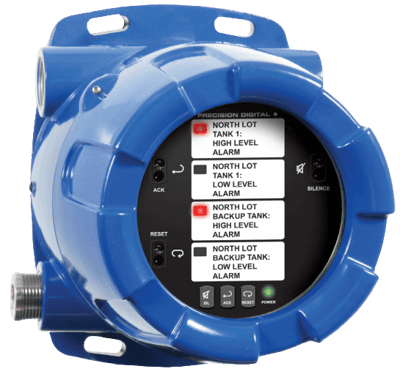 Images are representations only.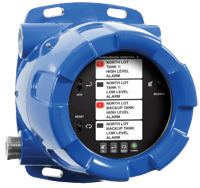 The ProtEX-MAX PD8-150 offers all the functionality of the Vigilante II PD150 as a fully FM, CSA, ATEX, and IECEx approved explosion-proof product.

It provides alarming and monitoring capabilities for all of your level, pressure, flow, and other process switches.

These explosion-proof alarm annunciators are available in two models; the PD8-154 has four (4) inputs and the PD8-158 has eight (8) inputs.

Each model accepts inputs from relays, float switches, digital outputs, and many other discrete (on/off) devices.

They can be field programmed for all common ISA alarm sequences including first out indication and provide alarm signaling through front panel LEDs and a built in audible horn.

Additional audible devices may be triggered through the use of relays. The silence, acknowledge, and reset functions can be operated without opening the housing by using the built-in SafeTouch® through-glass buttons.

Custom printed message labels can be included with your order at no additional charge.
Features
Modern, Sleek and Practical Enclosure
Display Mountable at 0°, 90°, 180°, & 270° Degrees
Explosion-proof, IP68, NEMA 4X Enclosure
Vigilante® II Functionality
SafeTouch® Through-Glass Button Programming
Sunlight Readable Displays
8 Field Selectable Sequences
All Common ISA Sequences Including First-Out
Switch, Transistor, and Logic Level Inputs
4-Point Monitoring
Free Custom Message Labels
Universal Power Supply 85-265 Vac
12-36 Vdc/12-24 Vac Power Option
Built-In 85 dB Horn
2 SPDT Relays for Alarm Activated Devices
24 Vdc Isolated Power Supply (AC Models)
Multiple-Unit First-Out Indication
Silence, Acknowledge, and Reset Functions
Sunlight Readable Indication
Specifications
Approvals & Certifications
ATEX, II 2 GD Ex d IIC T* Gb Ex Tb IIIC T90° C Db
CSA Class I, Division 1, Groups B, C, D, Class II, Division 1, Groups E, F, G Class III, Division 1, Class I, Zone 1 Ex d IIC Zone 21 Ex Tb IIIC T90° C
FM Class I, Division 1, Groups B, C, D Class II, Division 1, Groups E, F, G Class III, Division 1, T5/T6 Class I, Zone 1, AEx d, IIC Gb T5/T6 Zone 21, AEx Tb IIIC T90° C
IEC Ex d IIC T* Gb Ex Tb IIIC T90° C Db
Electrical Contacts
Normally Closed
Normally Open
Environmental Protection
IP66
IP68
NEMA 4X
NEMA 7
NEMA 9
Operating Temperature
-40° to 65° C (-40° to 150° F)