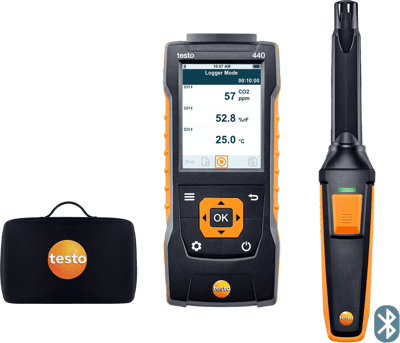 Images are representations only.
Testo 440 - CO₂ Kit with Bluetooth
Brand:
Testo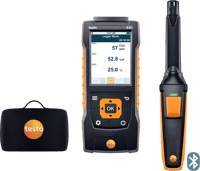 This Testo 440 kit is great for carrying out indoor air quality measurements.

The Testo 440 air velocity and IAQ measuring instrument and its CO2 probe with humidity/temperature sensor can all be safely stored in the included case.
Features
A measuring instrument for all climate-related parameters
Intuitive: clearly structured measurement menu for long-term measurement and parallel determination of CO₂ concentration, humidity and air temperature in indoor areas
Precise: absolute pressure compensation, calculation of wet bulb temperature, dew point and absolute humidity
Extendible with a wide range of probes
Wireless measurement with Bluetooth probes
USB interface for exporting measurement reports as CSV files
Specifications
Delivery Scope
Testo 440 Air Velocity and IAQ Measuring Instrument, 3 AA Batteries, USB Cable, and Calibration Protocol (0560 4401)
Basic Case for Testo 440 and 1 Probe
*Please do not use the probe in condensing atmospheres. For continuous application in high-humidity ranges: > 80 % RH at ≤ 86° F for > 12 h, > 60 % RH at > 86° F for > 12 h. Please contact Testo Service, or contact us via the Testo website.
CO₂ probe with Bluetooth and humidity/temperature sensor* (consisting of CO₂ probe head and Bluetooth handle), 4 AA batteries, table stand, and calibration protocol (0632 1551)
Temperature - NTC
Measuring Range: -40.0° F to 302.0° F / -40° C to +150° C
Accuracy: ± 0.7° F (-40° F to -13.2° F) / ± 0.4° C (-40° C to -25.1° C) | ± 0.5° F (-13° F to 166.8° F) / ± 0.3° C (-25° C to +74.9° C) | ± 0.7° F (167° F to 211.8° F) / ± 0.4° C (+75° C to +99.9° C) | ± 0.5 % of mv (Remaining Range)
Resolution: 0° F / 0.1° C
Temperature - Type K TC
Measuring Range: -328.0° F to 2498.0° F / -200° C to +1370° C
Accuracy: ± (0.5° F + 0.3 % of mv) / ± (0.3° C + 0.3 % of mv)
Resolution: 0.1° F / 0.1° C
Weight
8.8 oz. / 250 g
6.9 oz. / 195 g
Dimensions
6.1 x 2.6 x 1.3 in. / 154 x 65 x 32 mm
11.6 x 2.0 x 1.6 in. / 295 x 50 x 40 mm
Operating Temperature
-4.0° F to 122.0° F / -20° C to +50° C
23° F to 122.0° F / -5° C to +50° C
Connectable Probes
1 x Digital Probe with Cable or 1 x Temperature NTC TUC
1 x Digital Bluetooth Probe or Testo Smart Probe
1 x Temperature TC Type K
Battery Type
3 x AA 1.5 V
4 x AA batteries
Battery Life
12 h (Typically Vane Measurement)
21.5 h
Storage Temperature
-4.0° F to 122.0° F / -20° C to +50° C
-4.0° F to 140.0° F / -20° C to +60° C
Temperature - NTC (CO₂ Probe)
Measuring Range: 32° F to 122° F / 0° C to +50° C
Accuracy: ± 0.9° F / ± 0.5° C
Resolution: 0.1° F / 0.1° C
Humidity - Capacitive
Measuring Range: 5 to 95 %RH
Accuracy: ± 3 %RH (10 to 35 %RH) | ± 2 %RH (35 to 65 %RH) | Long-term Stability: ± 1 | Hysteresis: ± 1.0 %RH | ± 3 %RH (65 to 90 %RH) | ± 5 %RH (Remaining Range) | ± 0.06 %RF/K (32° F to +122° F) / ± 0.06 %RH/K (0° C to +50° C)
Resolution: t1: ± 0 %RH
Absolute Pressure
Measuring Range: +280 to +440 inH₂O / +700 to +1100 hPa
Accuracy: ± 1.2 inH₂O / ± 3.0 hPa
Resolution: 0.1 inH₂O / 0.1 hPa
Ambient CO₂
Measuring Range: 0 to 10000 ppm
Accuracy: ± (50 ppm + 3 % of mv) | (0 to 5000 ppm) | ± (100 ppm + 5 % of mv) | (5001 to 10000 ppm)
Resolution: 1 ppm
Convenience and Maximum Flexibility for Duct and Outlet Measurements
Long-term Monitoring of Indoor Air Quality
Turbulence Measurement in Accordance with EN ISO 7730 / ASHRAE 55
Range of Probes for Cleanrooms and Laboratories