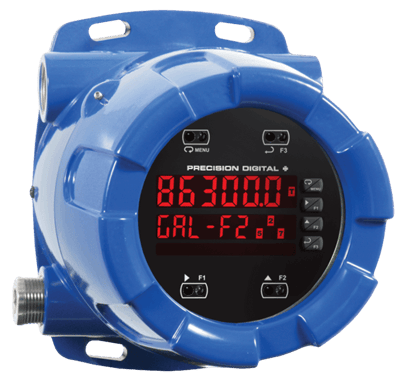 Images are representations only.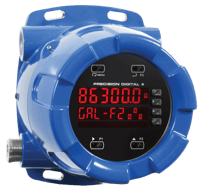 The ProtEX-MAX™ PD8-6300 offers all the functionality of the ProVu PD6300 as a fully FM, CSA, ATEX, and IECEx approved explosion-proof product.

It is specifically designed to display flow rate and total from a pulse output (NPN, PNP, TTL, switch contact, sine wave, etc.) flowmeter.

It displays that signal on a dual-line, 6-digit SunBright sunlight readable display.

Flow rate is typically displayed on the upper line and the cumulative total is displayed on the lower line. The total overflow feature allows up to a 9-digit total and grand total to be displayed.

The PD8-6300 includes a 24 VDC power supply to drive the flowmeter and can be equipped with four internal relays and a 4-20 mA analog output.

It can be programmed and operated without opening the housing by using the built-in SafeTouch® through-glass buttons or the RS485 serial communication port with free Modbus® protocol.
Features
SunBright Display Standard
Displays Rate and Total Simultaneously
5, 10, or 24 VDC Flowmeter Power Supply
Gate Function for Rate Display of Slow Pulse Rates
4-20 mA Output Option Converts the Pulse Input to an Isolated 4-20 mA Output
SafeTouch Through-glass Button Programming
Modbus RS-485 Serial Communications
Flanges for Wall or Pipe Mounting
Isolated 24 VDC at 25 mA Transmitter Power Supply
Onboard USB and MeterView® Pro Programming Software
12 models matching criteria
Specifications
Approvals & Certifications
ATEX, II 2 GD Ex d IIC T* Gb Ex Tb IIIC T90° C Db
CSA Class I, Div. 1, Groups B, C, D, Class II, Div. 1, Groups E, F, G Class III, Div. 1, Class I, Zone 1 Ex d IIC Zone 21 Ex Tb IIIC T90° C
FM Class I, Div. 1, Groups B, C, D Class II, Div. 1, Groups E, F, G Class III, Div. 1, T5/T6 Class I, Zone 1, AEx d, IIC Gb T5/T6 Zone 21, AEx Tb IIIC T90° C
IEC Ex d IIC T* Gb Ex Tb IIIC T90° C Db
Environmental Protection
IP66
IP68
NEMA 4X
NEMA 7
NEMA 9
Operating Temperature
-40° to 65° C (-40° to 150° F)